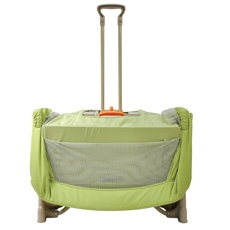 Fort Mill, SC, June 16, 2010 --(
PR.com
)-- Juvenile products manufacturer Combi USA launches the Tatami Play Yard.
Recognizing that safety, comfort and convenience are all important to parents, Combi has designed a play yard that can be set up for use or folded for storage and travel in as fast as five seconds. "We have found that a common complaint about play yards on the market is the difficulty in folding and unfolding, specifically locking and unlocking the side rails," said Pam Brown, Combi USA's Sales Manager. "The Tatami is a great solution that offers parents much needed convenience."
The compact Tatami (Japanese—means "folded and piled") has wheels, an attachable handle and dust cover, making it convenient for travel. There is no assembly required and no parts to remove before it is folded for storage. The recommended use is for children up to 35 inches and 30 pounds.
The Tatami Play Yard retails for $179.99.
About Combi USA: Combi, a shortening of the word "combination", refers to the combination of mother and child. Combi USA, Inc., established in 1989, is a subsidiary of Combi Corporation. Established in 1961, Combi Corporation is a Japan-based company that has carefully cultivated a firm and growing foundation of customer trust. For the past forty years, this trust has driven the brand forward as a leader in the juvenile products industry. Since its inception, Combi has remained true to its core commitment to establish healthy living environments for babies. Today, Combi provides safe, original juvenile products for nearly every setting of a child's life. For more information on Combi products, visit www.combi-intl.com.
###