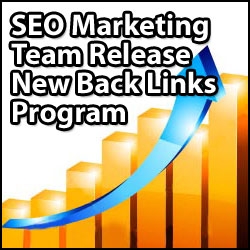 San Diego, CA, June 18, 2010 --(
PR.com
)-- SEO Marketing Team is an internet marketing agency that specializes in internet marketing services such as search engine marketing, email marketing and pay per click management for small businesses up to corporations. Today, the company announced that in addition to monthly SEO services, the company will be providing link building packages for those companies who are already doing search engine marketing and are just looking for a boost with additional one way back links.
In search engine marketing, having one way inbound back links with anchor text equal to the web sites' targeted keywords helps web sites get on the first page of the search results for those keywords. By creating a package of back links from social bookmarking web sites, blog posts, article directories, and even video submissions, SEO Marketing Team will be able to show some companies the progress they can make for search engine positioning for non competitive keywords in a matter of weeks. For more competitive keywords, this program will help by augmenting what these companies are already doing.
SEO Marketing Team has carefully chosen the web sites for back link purposes and boasts link building from PR5 web pages up to PR9. Having researched over 50 other link building providers, SEO Marketing Team is one of the few companies that also provides a report once the links are integrated into the other web sites.
Rich Stark, Managing Partner of SEO Marketing Team states, "Many people who are versed in search engine marketing know that back links are an integral part of the process. Our new programs have been shown to boost a web site's ranking within weeks. For some companies, even that 5 or 6 position jump can be the difference between tens and hundreds of new leads and sales."
The addition of these packages adds more services to an already complete line up of marketing services that really help companies drive traffic to their web sites for sales and leads. The company specializes in marketing for Yahoo, Google, and Bing and also maintains a proprietary search engine marketing software called BareTrax which tracks the results of internet marketing campaigns.
Through the services already provided and the tracking software that was developed by Stark Logic (a partner of SEO Marketing Team), the company has built a comprehensive
internet marketing agency
that can drive traffic to any web site through different medium.
Contact SEO Marketing Team today by visiting www.seomarketingteam.com or at (888) 699-8972.
###