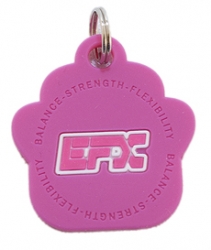 Mission Viejo, CA, June 19, 2010 --(
PR.com
)-- Many Americans love their pets, some as much as if they were their own children. Because of this, the pet product industry has flourished with everything from designer clothing to full on day spas for pets, but nothing is more important to owners than their pets' health.
EFX Performance, Inc., is entering the pet product market with the launch their new line of pet tags featuring their embedded holographic technology. The line features round and paw-shaped tags that will come in black, white and pink and be available on www.efxusa.com.
EFX products are utilized by people from all walks of life and have been reported to increase balance, strength, endurance and flexibility. Customers have also claimed to experience other benefits such as improved tolerance for motion sickness and jet lag.
"Our technology is used to harmonize bioelectric frequencies that exist in all living creatures. It's a natural progression for EFX to come out with a line for pets," said President of EFX Performance, Inc., Jim Ruschman. "After all, why wouldn't someone who benefits from our products want to share those same benefits with their pets?"
For more information contact John Ayers at (866) 808-3960 ext. 304 or email him at jayers@efxusa.com
###
EFX Performance, Inc. is a private corporation based in Mission Viejo, California. It was founded in 2009 with the goal of promoting its holographic technology to encourage greater athletic performance and general wellness in its customers. EFX manufactures, distributes and licenses products domestically and internationally.