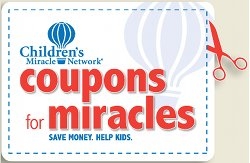 Baton Rouge, LA, June 22, 2010 --(
PR.com
)-- Brand Coupon Network, LLC (BCN), an innovative leader in online print-controlled coupon technology, will launch Coupons for Miracles with Unified Grocers on September 15, 2010. The goal of the project is to raise needed funds for Children's Miracle Network through an online innovation to couponing and fundraising.
Consumers (supporters) will be able to visit
www.couponsformiracles.org
or an affiliate website, print out desired coupons and receive the full amount of the savings on participating brands. Neither donations nor solicitations are required. All funds generated through the Coupons for Miracles program will be distributed to the Children's Miracle Network hospital in the community where the coupons were redeemed.
"Coupons for Miracles is an innovation in online fundraising and corporate partnering that converts coupons into cash for Children's Miracle Network hospitals," said Dan Abraham, founder of BCN. "Consumers champion their cause while they save money on products they normally buy or would like to try."
Historically, nonprofit organizations suffer in times of economic crisis, as donations become more difficult for families with rising costs of living. "The beauty of Coupons for Miracles is that we are helping supporters save money on their groceries and creating a venue where they can do so while helping their cause of choice," states Dan Murphy, SVP of Perishables and Retail Support Services at Unified Grocers.
"Coupons for Miracles is a socially conscious, engaging initiative that Unified Grocers embraces. We have partnered with City of Hope and Doernbecher Children's Hospital for years. We look forward to working with Children's Miracle Network," stated Murphy.
Brand sponsors participating in Coupons for Miracles benefit from being charged only for coupons redeemed. Traditionally, coupons can be an expensive initiative for companies because of the costs associated with printing inserts or because they're charged every time a coupon is printed from a website. "Because participating companies only pay for redeemed coupons, participating in Coupons for Miracles is a cost effective marketing spend tying brands to a noble cause. In addition to the coupon, Unified Grocers will have tie-in opportunities at over 1,200 stores in the Western United States," said Abraham.
"It is just good business to help our communities and give back when we can," states Kory Burwell of Unified Grocers. "Everyone wins when they can just download their coupons from the Coupons for Miracles website and, by doing so, help sick children at our hospitals."
Coupons for Miracles will be launched on September 15, 2010.
About Brand Coupon Network:
Originally based in Metairie, La., BCN survived Hurricane Katrina and set up headquarters in Baton Rouge, La. As an innovator in online print-controlled couponology, BCN has been a member of the Association of Coupon Professionals for seven years and has served on its Board of Directors. BCN's mission is to revolutionize fundraising for schools and non-profits to the benefit of the causes, the consumers and the partners. Providing a win/win/win scenario to all stakeholders is the core of BCN's value proposition. For more information, contact Dan Abraham 877-7COUPON or
dan@brandcouponnetwork.com
About Children's Miracle Network
Children's Miracle Network is a non-profit organization dedicated to saving and improving the lives of children by raising funds for children's hospitals. Each year the 170 Children's Miracle Network hospitals provide the finest medical care, life-saving research and preventative education to help millions of kids overcome diseases and injuries of every kind. To learn more go to www.childrensmiraclenetwork.org
About Unified Grocers
Founded in 1922, Unified Grocers, Inc. is a retailer-owned wholesale grocery distributor that supplies independent retailers throughout the western United States. Unified and its subsidiaries, which generated approximately $4.1 billion in sales during fiscal 2009, offer independent retailers all the resources they need to compete in the supermarket industry.
###