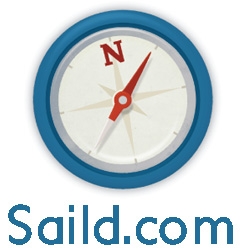 London, United Kingdom, June 23, 2010 --(
PR.com
)-- Saild has launched it's online
sailing log book
. The service lets sailors and boaters log exactly where they have been sailing and who with. Well designed and easy to use Saild's standard plan is free-of-charge.
"This is a
sailing blog
on steroids." Says Founder Duncan, "It came of a genuine need from myself and people I sail with always forgetting and losing our logbooks. I like many sailors want to keep a log but have never had a way which is convenient enough for me."
With very little effort, users are able to add entries to the log book and add the people they were on the water with. When they do this the miles and trip are automatically attributed to those crew or skippers as well.
"Finally," as Duncan explained, "we now have a proper way in which to log sailing online rather than just on paper or a spreadsheet. We can see where people actually sailed and who with. Our core service is free and we intend to continue building additional premium features to the site. We have lots of cool features on the way and are very excited about the project."
To access Saild, sailors and boaters create a free account at Saild.com. After the simple sign up process they can immediately start adding previous trips, crew, photos and tracks straight from their iPhone or Android phone using applications like Navionics and MotionX.
About Saild
Saild is an online sailing logbook where sailors and boaters can keep a track of where they've sailed and who they've sailed with.
http://www.saild.com
For more information please contact Duncan Malcolm at Saild.com
Contact:
Duncan Malcolm
Founder
+44(0)207 183 0384
pr@saild.com
###