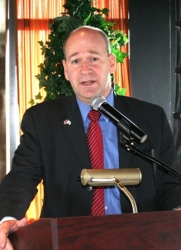 Portsmouth, NH, June 24, 2010 --(
PR.com
)-- Friends Forever, a 501(c)(3) global non-partisan advocacy and awareness organization dedicated to world peace, yesterday hosted Israeli Consul-General to New England, Nadav Tamir at The Hundred Club in Portsmouth, NH to discuss the important role that Friends Forever plays in fostering peace in the Middle East.
Mr. Tamir has been an ardent supporter of Friends Forever's initiatives in the Middle East during the last year. In the fall of 2009, he met with the teens enrolled in last year's Life raft program for Israel.
The visit to the Seacoast of New Hampshire is Mr. Tamir's first since becoming involved in the program. Yesterday's exclusive session provided Friends Forever supporters with the opportunity to hear directly from the Consul-General on the steps being taken to create lasting peace in the region. Underscoring his optimism for peace, Mr. Tamir cited several examples of Israeli, Palestinian and American diplomatic policies being implemented in order to create economic and social development in the region.
"The top-down approach of diplomatic efforts can only do so much," said Mr. Tamir. "By harnessing the power of the young Arab and Jewish Israeli citizens, Friends Forever works from a bottoms-up approach building an invaluable bridge between the cultures."
Following Mr. Tamir's prepared remarks, he hosted a lively question and answer session during which he stressed the importance of mutual respect and understanding to appreciate the dynamics of the region. He explained his own experience of learning about the Arab Israeli culture and how young people could also benefit from this familiarity, "The work Friends Forever does to provide youth in Israel with the opportunity to interact on a one-to-one basis, and erase pre-conceived notions is invaluable."
Mr. Tamir returns to Israel at the end of July, but will remain updated on the teens involved in the Friends Forever program and the further development of the organization in Israel.
About Friends Forever
Friends Forever is a 501(c)(3) global non-partisan advocacy and awareness organization dedicated to peace, particularly in Ireland and Israel. Friend Forever's members work in their local communities domestically and internationally to raise awareness and help build programming that will support these young Irish and Israeli leaders as they team to address the challenges that face their communities. The organization works closely with local experts, regional leaders and educational institutions to promote healthy communication within disparate fractions and to end violence.
Since 1986, Friends Forever has built hundreds of lasting friendships across the cultural, religious, and political divides of Northern Ireland and Israel. The organization brings together multi-faith teens to live, laugh, learn, and volunteer together in host communities in New Hampshire, Maine, and Massachusetts. These youth leaders, upon completing Friends Forever's unique two-week "Life Raft" experience, return home to perpetuate tolerance in their own communities. For information please visit, www.friendsforeverusa.org
###