Vehicle Service Contract Provider US Direct Protect Signs Eleven thousandth Extended Auto Warranty Policy
US Direct Protect has been in business 3 years and has had underwritten its' 11,000 Vehicle Service Contract. US Direct Protect has a high rating on the BBB and sells A+ rated Auto Warranty Companies.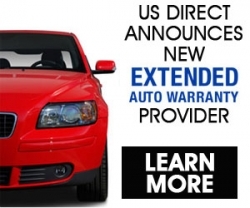 Costa Mesa, CA, July 04, 2010 --(
PR.com
)-- National Warranty Service's Inc dba US Direct Protect has signed its Eleven Thousandth Vehicle Service Contract this month. US Direct Protect dba was founded in 2007 by original Investors David Cunningham and Robert Perkins and since sold shares to various Investment groups. Us Direct Protect is a registered member of the Vehicle Protection Association, an Association set up by Industry leaders, and an Accredited Better Business Bureau member in good standing. David Cunningham still runs day to day operations at US Direct Protect Headquarters in Costa Mesa CA.
US Direct Protect is far from the biggest sellers of Vehicle Service Contracts but maintains a modest customer base that has arisen from Internet chatter and blogging websites. Cunningham explains "Over the past 5 years the internet has become part of human way of life. It is part of our everyday process. And now with the advent of Social Bookmarking websites, and social networking you have a whole new way to pre-screen your selections and do some research before the purchase. And because we always put our customers first, a by-product has been high ratings, and positive internet content about the services we provide."
US Direct Protect provides coverage on Automobiles when there dealership warranty expires. Automotive warranties coverage begins after the factory warranty expires. An
Extended Auto Warranty
or Aftermarket car warranty is what they have been referred to but the official name is a Vehicle Service Contract.
US Direct Protect has internal software that allows them to enter a car owners Vin # and personal information, and within seconds, get pricing from 6 Administrators. Each State and each Make, model, year has different pricing so without this software only 1 administrator could be presented. Mark Victor, Supervisor of Business Development at US Direct Protect believes that this ability to provide 6 choices at once is one reason US Direct Protect has gained much attention by consumers. "Consumers like to have choices, They like to know that an agent weighed out all of the factors concerning their account, mileage, driving habits, commitment to keep the car and monthly budget; had many choices to choose from, and selected the best policy at the best price."
National Warranty Services Inc dba US Direct Protect also has offices in Yorba Linda and Oceanside California.
###
Contact
US Direct Protect
Robert Perkins
1-888-502-4697 ext 301
www.usdirectprotect.com

Contact