Russ Brown Motorcycle Attorneys and BAM Breakdown and Legal Assistance for Motorcyclists Gearing Up for Stugis Bike Week
Russ Brown Motorcycle Attorneys (Brown, Koro & Romag, LLP), sponsors of the Nationwide BAM program will be on site at various locations in Sturgis, SD for the infamous 70th anniversary of Sturgis Bike Week August 9th to the 15th, 2010.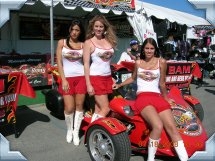 Sturgis, SD, July 09, 2010 --(
PR.com
)-- Sturgis Bike Week got its start August 14, 1938. Back then it was called "The Black HIlls Classic" which consisted of a single race with 9 participants. J. Clarence "Pappy" Hoel purchased a percentage of Indian Motorcycles in the area in 1936 and that same year a local club was created called the Jackpine Gypsies. The club produced the racers of the first event and "Pappy" is considered the father of Sturgis Sturgis Bike Week which is now considered to be the 'Mecca' of all motorcycle rallies.
Sturgis Bike Week has become legendary in the motorcycle community and many infamous places have sprung up over the years including the legendary Buffalo Chip Campground. The 'Chip' is famous for its concerts which this year includes the performances of Kid Rock, Bob Dylan, ZZ Top, Motley Crue, The Scorpians, Buckcherry, Tesla, Ozzy Ozbourne and much more.
Other famous haunts in Sturgis, SD include The Full Throttle Saloon, One Eyed Jacks Saloon, The Knuckle Saloon and Broken Spoke Saloon. You can ride to Mount Rushmore, check out Sturgis Motorcycle Museum and Hall of Fame, Black HIlls National Cemetary and so much more.
Russ Brown, motorcycle lawyer, has been fighting for bikers rights since 1975 and can be seen at many rallies across the USA.
Russ Brown Motorcycle Attorneys and BAM, Free Breakdown and Legal Assistance for Motorcyclists will be set up at two locations on Main St in Sturgis. One team will be at Mr. Al's Swapmeet, one will be across from the Sturgis Motorcycle Museum and a team of BAM girls will be hanging out at the Buffalo Chip.
###
Contact
Russ Brown Motorcycle Attorneys / Brown Koro & Romag, LLP
Audrey Nesbitt
1-800-424-5377
http://www.russbrown.com
1-800-4-BIKERS

Contact