Meet Freemake.com: A New Freeware Developer
Despite the existence of various multimedia programs, it seems really complicated to find one that is both effective and user-friendly. Freemake.com, a new but experienced freeware developer, stands ready to resolve this problem. Its newly launched free tools — Freemake Video Converter and Freemake Video Downloader — aim to satisfy a longstanding need for free and effective software.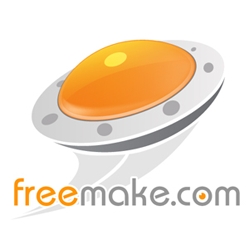 Los Angeles, CA, July 13, 2010 --(
PR.com
)-- Today's prolific multimedia software market abounds in multiform programs to suit every taste and every income level. However, customers traditionally have had to choose between quality and cost — in other words, between paid software and free software. Most free programs are obsolete, applicable only for advanced users, or simply unknown to the community.
Freemake developers have taken this situation into consideration and designed free programs to address it. They have devised speedy, simple solutions for everyday tasks: downloading videos from different sites, converting files to video formats or multimedia devices, burning DVDs or CDs, and uploading files to YouTube. The solutions do not particularly cater to either advanced or inexperienced users. These user-friendly Freemake programs can be used by everyone.
Freemake Video Converter
is a free multifunctional video converter. Several features distinguish it from other existing video converters. First of all, it allows you to import and convert videos in almost any existing format to numerous devices (iPod, iPhone, iPad, PSP, Xbox, Apple TV, Blackberry) and apply editing effects. You can manage PC & Internet video files, and rip and burn DVDs. Furthermore, it is possible to create slideshows out of photos with background music and audios with visualization or image. The program converts files to AVI, WMV, MP4, 3GP, DVD, and MP3. Thus, all videos, photo slideshows, music visualizations can be easily uploaded to YouTube without prior conversion.
Moreover, the software makes it possible to cut, rotate, flip video files, merge several clips into one file and play back the video before conversion. With it you can create high-quality DVDs and burn them straight to a disc (up to 20 hours worth of footage). You can test the high-speed conversion and take advantage of batch mode support.
Freemake Video Downloader
allows you to download videos from popular video-sharing sites as YouTube, Google, Facebook, Dailymotion, Megavideo, Metacafe, Vimeo and many others. And you can choose the best-quality videos stored on the site, including HD video.
In short, it is one of the fastest and easiest ways to transfer a web video to a PC in its original format, to convert it to the most common PC formats (WMV, MP4) or to extract audio (MP3) from the video. With Freemake Video Downloader, users don't have to worry whether a web video will be reproduced on their computers. It will for sure.
This program features not only simplicity but superior performance. Its downloading speed surpasses that of regular on-line resources and even paid software. And the whole process demands just three clicks: insert the link, choose the format and press "Download."
All these programs are compatible with Windows XP, Vista and Win 7 and optimized for netbooks. Download them from Freemake.com website. Self-explaining video guides and comprehensive technical support are also at your disposal. With this exciting array of free software tools, you will enjoy the maximum benefits of multimedia.
About Freemake.com
Freemake.com is a unique resource offering access to free and effective software designed with extensive feedback from real users. The developers say: "We have taken into account our previous experiences, users' suggestions and the merits and flaws of present-day multimedia processing software. We can state with confidence that our programs gather all the best practices and feature all the necessary functions one needs to cope with any task."
For further information, please visit www.freemake.com
###
Contact
Freemake
Emma Cooper
+1 323 545 3897
www.freemake.com/

Contact