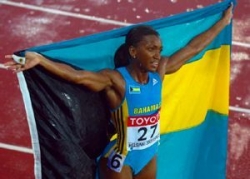 Nassau, Bahamas, The, July 16, 2010 --(
PR.com
)-- Olympian Tonique Williams-Darling is bringing in the troops for reinforcement. Since her return to the Bahamas last year, the 400 meter gold medalist in the Athens Olympics, has been coaching and mentoring a group of aspiring track and field athletes through her organization TWD Athletics.
This year she's conducting the 2nd annual TWD Athletics Clinic to facilitate the growth and development of track and field in the Bahamas. "Our mission is to conduct sports training clinics in New Providence and throughout the family islands with the intention of developing, educating, inspiring and identifying the undiscovered talent within the Bahamas."
Tonique will be hosting celebrity athlete, 100 meter Olympic gold medalist, Maurice Greene. Greene will be sharing some of the training techniques that have made him a legend on the international track and field circuit. Several local coaches have signed on to assist with the clinic which will be held in Abaco, August 13-14 and New Providence, August 16-21.
By sharing her talent and dedication to excellence with young people, Tonique hopes to encourage them to excel in both academics and sports through hard work, commitment and community support. "I encourage all parents to make a sacrifice and send their children to our clinic where they will the opportunity to train with an internationally acclaimed Olympic gold medalist."
About Tonique Williams-Darling
Tonique has been ranked No. 1 in the world as a 400 meter specialist. In 2004 she won the gold in the 400m at the Sydney Olympics, continuing her winning legacy at the World Track and Field Championships in 2005, and the World cup in the 4x400m relay. She is a 2006 silver medalist at the Commonwealth Games and a bronze medal at the World Indoor Games. The former All-American has been inducted into the Hall of Fame at The University of South Carolina. Tonique resides in Nassau, Bahamas.
###