Father and Son Team up to Fight Recession and Save the Environment
Central Virginia Appliance helps consumers in a bad economy - Refurbished appliances are a great way to battle the current economic crisis for entrepreneurs as well as consumers.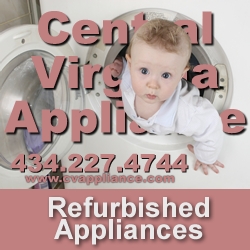 Troy, VA, July 20, 2010 --(
PR.com
)-- Central Virginia Appliance was born in the garage of Roy and Janet Chilson in an effort to help their son weather the recession storm. After four years in the now struggling construction industry, their son Mark teamed up with his dad to form a company that has become synonymous with great products and customer service.
Their recent move to a 2500 square foot warehouse and showroom at Zion Crossroads Industrial Park suggests that business is booming. Landlord Rick Perrault of Trinity Investment Properties, LLC says, "Roy and Mark have a great business plan that helps the community in many different ways. Their success is good for the local economy as well as the global environment."
Specializing in refurbished washers and dryers, Central Virginia Appliance is doing its part to rescue appliances that are headed to the scrap yard. With the average cost of appliance repair close to $200, many consumers have adopted the throw-away attitude that manufacturers hope they will, and purchase new appliances while discarding their old ones.
"Buying new appliances is often the easy way out for many consumers." says Mark Chilson. "Our goal is to make it just as easy to purchase completely refurbished appliances that are affordable, with a warranty comparable to new machines."
As for working together, this father and son team has found that their respective skills and experiences compliment each other. "Having the opportunity to work so closely with my son has been very rewarding. Mark is dedicated to taking care of our customers and ensuring that our staff does the same." said Roy Chilson.
Visit their showroom, just one mile from Zion Crossroads, at 92D Industrial Drive in Troy, Virginia and you will see a wide variety of affordable appliances. For a discount coupon visit their website at http://www.cvappliance.com/par10719.
About Central Virginia Appliance
Central Virginia Appliance is committed to providing quality refurbished appliances to the public at an exceptional value. Their trained technicians and quality parts and service, guarantee exceptional products that are backed by a 30 day parts and labor warranty as well as a one year parts warranty.
The company is headquartered in Troy, Virginia. For more information, visit www.cvappliance.com or phone 434.227.4744.
###
Contact
Central Virginia Appliance
Roy Chilson
4342274744
www.centralvirginiaappliance.com

Contact
Multimedia
Refurbished appliances are a great way to battle the current economic crisis for entrepreneurs as well as consumers. Find out how this father and son team are growing together. A true win-win story.