Animators at Law Launches ACCESS an Online Trial Team Collaboration Tool That Promises to Improve Litigation Graphics Development and Project Management for Law Firms
ACCESS (Animators Client Collaboration and External Sharing System) allows top litigation teams to view trial exhibit designs in real time, preview trial presentations, leave real-time comments, make last minute edits, share trial presentations with in-house counsel, review designs anywhere on a mobile phone and much more.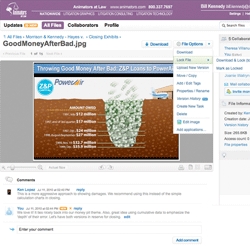 Washington, DC, July 21, 2010 --(
PR.com
)-- Animators at Law, a national leader in the trial graphics, litigation consulting and courtroom presentation industries, announces the launch of ACCESS, the Animators Client Collaboration and External Sharing System. ACCESS enhances the service provided to trial teams by creating an online litigator-friendly collaborative workspace with highly interactive features. Specific benefits for a trial team include:
**A Centralized workspace means thousands of documents, exhibits, video depositions, presentations and more can be uploaded for shared use and any documents can be quickly downloaded or viewed natively online.
**Control last minute changes and make quick edits to trial presentations.
Collaborate with the entire team by leaving comments and having discussions.
**View exhibit drafts, revisions and comments/feedback on any mobile device.
**Enjoy unmatched security with 256-bit AES SSL encryption.
**Free - Animators at Law offers ACCESS free of charge to its clients. By combining ACCESS with its industry-pioneering fixed fee pricing model for both litigation graphics and trial consultant/hot seat operators, Animators at Law clients are receiving the maximum value at the very best price.
See an example screen shot from ACCESS:
http://www.animators.com/access_demo.html
"We are happy to provide ACCESS at no additional cost to our clients as this is just one more way Animators at Law is increasing service for our demanding national clientele," notes Founder and CEO Kenneth J. Lopez. "For cases with multiple large law firms involved, multiple offices or active in-house trial participation, ACCESS is the perfect tool."
Theresa Villanueva, a Senior Litigation Graphics Consultant at Animators noted, "I've consulted on hundreds of trials, and I have never seen a tool that works as well as ACCESS. The ability to interface with our on-site trial technicians in real-time, sometimes even during a live trial, is especially exciting."
Animators at Law has already used ACCESS on more than a dozen national engagements. Trial teams from top law firms have quickly adopted the tool and put it to use. In the last few months, hundreds of gigabytes of data have been exchanged between the creative team at Animators, in-house counsel, on-site hot-seat operators, litigation support staff and trial teams.
About Animators at Law
Founded in 1995, attorney owned and operated Animators at Law provides litigation consulting, litigation graphics & litigation technology to major law firms and corporate legal departments worldwide. To date, Animators at Law has worked with more than 90% of the largest U.S. law firms and consulted on cases with more than $2 trillion cumulatively at stake. The firm is well known for its high-profile work in the tobacco, motor vehicle, pharmaceutical and energy industries. Statistically, half of Animators at Law's engagements are patent-related and most of those are tried in the Eastern District of Texas.
###
Contact
Animators at Law
Sue Butler
(800) 337-7697 x121
www.animators.com

Contact