Auto Warranty Company US Direct Protect Has Officially Joined the VPA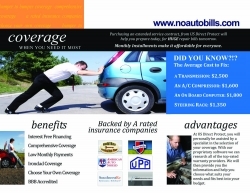 Costa Mesa, CA, July 24, 2010 --(
PR.com
)-- Auto Warranty provider US Direct Protect has joined the VPA and has made it official Wednesday July 21st by mailing their auditing fee via certified mail. September 1st is the deadline for all Car Service Contract Brokers, Agents, Finance Companies, Fulfillment Companies, Administrators and Merchants to join. "The VPA is the collective will of the entire Industry interfacing together to rid the Industry of foul play," remarks Keri Smith, Director of Customer Affairs at US Direct Protect.
Over the last 2 years the pillars of the Vehicle Service Contract Industry have collaborated to eliminate call centers that do not represent their products correctly. Over 100 Warranty entity's have had their doors closed or closed themselves.
The VPA is a not-for-profit association. VPA currently has more than 50 members. The organization is committed to advocating regulatory compliance among member companies, educating consumers on their rights, protecting consumers, and otherwise ensuring the integrity of the automotive service contract industry. They have set up a code of ethics for all members to follow.
US Direct has offices in Costa Mesa CA and Yorba Linda CA and will have a location in FL very soon. US Direct Protect uses a licensed software that connects them in real time to 6
Auto Warranty
Administrators allowing them to shop the best rates for their customers "US Direct Protect has always maintained a B+ or higher on the BBB and pride ourselves on providing the best policy at the best price," states David Cunningham acting CEO.
###
Contact
US Direct Protect
Robert Perkins
1-888-502-4697 ext 301
www.usdirectprotect.com
www.carservicecontract.com
www.seomarketingteam.com

Contact