Charlotte.US Web Address to Become Available Through Menius Enterprises Private Auction
The official .US web address for Charlotte, North Carolina (www.charlotte.us) will become available soon for purchase via private auction. Charlotte-area companies are invited to participate in this once only event.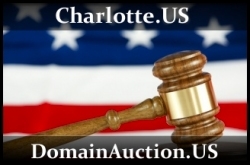 Charlotte, NC, August 09, 2010 --(
PR.com
)-- Menius Enterprises, Inc. specialize in the sale of premium domain names for business expansion and national marketing campaigns. The company will be hosting a number of upcoming private auctions. Of particular interest in the last quarter of 2010 is the scheduled sale of Charlotte.US, which is the official (.US) United States web address for Charlotte, North Carolina.
Charlotte is the 18th most populated metropolitan city in the United States. It is a leading banking & financial center, and North Carolina's largest city with an estimated 723,514 residents.
The corresponding .US web address for Charlotte will be sold in local auction with bids by area companies taken as early as November, 2010 (tentative date only).
Bidders from the following industries are welcome to participate: Hotel & Travel, Charlotte Real Estate Agencies, Banking and Financial Institutions, Advertising & Marketing Firms, Sports Franchises, TV/Radio & Internet Media, Real Estate Investment Trusts (REIT's), Insurance Companies, Charlotte Entertainment Venues, Business Development Corporations, Local Auto Dealers, Commercial Property Management, Venture Capital Investors & Web Developers, Local Municipalities, any and all local corporations interested in elevating their regional presence and marketing initiatives through the acquisition of Charlotte.US.
.US is the official country code of the United States and is managed by the Neustar Registry under contract with the United States government.
Charlotte.US is the official .US (United States) internet address for Charlotte, North Carolina. This domain name is owned exclusively by Menius Enterprises, Inc.
Menius Enterprises, Inc. is a web development and internet investment corporation based in Greensboro, NC, USA. The company has been in operation since 1999.
For more information on participating in this once only auction event for Charlotte.US, visit:
www.DomainAuction.US
###
Contact
Menius Enterprises, Inc.
Max Menius, President
336-688-2469
www.DomainAuction.US

Contact