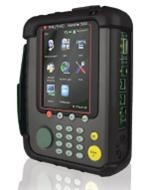 Indianapolis, IN, September 23, 2010 --(
PR.com
)-- Trilithic, a leader in broadband test and measurement solutions, proudly introduces the MetroNet 5000 (TM) Ethernet and IP test set for cable, telecom and wireless service providers.
The MetroNet 5000 offers comprehensive test and monitoring functions to isolate and solve problems in the network core, edge, NOC and data center. Designed for construction, customer turn-up and maintenance applications; this test set offers numerous built-in tests for complete Ethernet, IP and LAN testing in one small lightweight handheld.
The MetroNet 5000 features dual 10GbE interfaces for in-line monitoring and wrap-around testing at 10GbE for faster problem resolution. With powerful packet and frame filtering the user can focus and filter measurements on several types of traffic and even emulate a particular carrier service. The MetroNet 5000 has the flexibility to flood device-under-test port traffic for stress testing of routers and switches and simulate distributed denial of service attacks and intrusions to emulate viruses and security breaches.
"It's a sophisticated test set that's simple to use and budget conscious," says Terry Bush, President of Trilithic. "Its lightweight and intuitive design are trademarks of Trilithic systems and it sets new standards in the Ethernet and IP realm for features versus price."
The MetroNet 5000 is the first true lightweight solution in its class weighing less than three pounds. This test set is currently available in four versions with different port configurations, the 5020 which has two GbE interfaces, the 5100 with one 10GbE interface, the 5120 which has one 10GbE interface and two GbE interfaces and the 5200 equipped with two 10GbE interfaces. Each model includes the same robust complement of software functions. Optional software is also available for packet capture analysis, VoIP testing and 10GbE EAN PHY.
The MetroNet 5000 Ethernet Test Set will be available for demonstration at the OSP Expo October 13-14th, San Antonio, Texas and at the Cable Tec Expo October 20-22nd, New Orleans, Louisiana.
For further information or to schedule a free demonstration, visit
www.trilithic.com
.
###