Large Scale ALTO/P4P Field Trial Affirms Performance Improvements for Broadband Networks
China Telecom Sees Enhanced Network Efficiencies and Increased Delivery Speeds.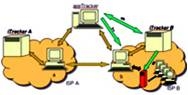 Washingtion, DC, August 26, 2010 --(
PR.com
)-- The P4P Working Group (P4PWG) today announced results of recent ALTO/P4P field testing led by China's largest broadband network operator, China Telecom (CT), and China's leading peer-to-peer (P2P) software system, Xunlei ("Thunder"), working with Yale University.
P4P refers to an advanced technology for optimizing utilization of Internet service provider (ISP) network resources and accelerating P2P distribution of content, in order to both improve Internet efficiency and provide the best possible performance to end-user customers. P4P is a major contributor to Application-Layer Traffic Optimization (ALTO), an Internet standard being developed at the ALTO Working Group of the Internet Engineering Task Force (IETF).
Major US and European ISPs including AT&T, Comcast, Telefonica, and Verizon Communications participated with Pando Networks in 2008 and 2009 P4P field trials, which were also coordinated by Yale University and served as the foundation for the latest testing led by CT.
CT's expanded trial took place over a period of four months within one province of China and involved seven million broadband subscribers using Xunlei for both P2P file downloading and P2P video streaming. The trial utilized an enhanced ALTO/P4P server system developed at CT that integrates with its network management system. This trial also introduced the integration of ALTO/P4P and an ISP network storage system called DECADE. CT monitored traffic loads using its network management system on its local backbone.
Results included converting at least 50% of inter-province outbound traffic to intra-province traffic, decreasing Xunlei bandwidth use that leaves the province by more than 40 Gbps. At the same time, average download speeds increased 6% by integrating ALTO/P4P with 16 cache servers.
"We are very pleased with these results," China Telecom said. "We have been looking for an effective and low-cost technology to optimize P2P traffic. The results show that ALTO/P4P is effective in optimizing the P2P traffic flow of our network. We plan to track the development of ALTO/P4P technology and move ahead with more trials and are grateful for the support of Yale University as well as the prior testing undertaken by the P4P Working Group."
"ALTO/P4P significantly improved the capability of this major ISP to positively guide P2P on a large scale. This trial is very interesting on multiple fronts. It is the largest trial so far in terms of the number of concurrent users. It applied to both file downloading and streaming. China Telecom used original approaches to integrate ALTO/P4P, DECADE, and its network management systems to improve application performance and achieve traffic optimization." Yale University Associate Professor of Computer Science and Electrical Engineering Y. Richard Yang, added.
Verizon Communications Senior Technologist and P4PWG Co-Chair Doug Pasko noted, "This latest round of trials again illustrates how ISPs can operate more efficiently if traffic remains on their own networks, and marks a major step toward worldwide commercial deployment of P4P."
Pando Networks CEO and P4PWG Co-Chair Robert Levitan concluded, "With China Telecom's field trials now complete, we are markedly closer to production readiness for P4P on a global scale. Pando Networks is happy to be able to work with our partners now to demonstrate the ability of P4P to make a substantial impact on network performance."
About the P4P Working Group
The P4P Working Group Ltd. (P4PWG) was established under the auspices of the Distributed Computing Industry Association (www.DCIA.info) in July 2007, and formalized as a non-profit corporate alliance in January 2009.
The P4PWG's mission is to assist Internet service providers (ISPs) and peer-to-peer (P2P) software distributors in accelerating content distribution and optimizing network resource utilization to provide the best possible performance for end-user customers.
It is co-chaired by Doug Pasko of Verizon Communications and Robert Levitan of Pando Networks. Other Members of the P4PWG Board of Directors include Alcatel-Lucent's Mark Peterson, AT&T's Steven Wright, BitTorrent's Eric Klinker, Comcast's Barry Tishgart, DCIA's Marty Lafferty, Solid State Networks' Rick Buonincontri, Telefonica's Emilio Sepulveda, and Yale University's Y. Richard Yang and Richard Alimi.
Additional P4PWG participants and observers bring the total number of organizations involved, including leading ISPS and P2P companies from around the world, to approximately one hundred.
Media Contacts
China Telecom
Kai Lee
86-10-58552215
Leekai@ctbri.com.cn
Yale University
Y. Richard Yang
203-432-6400
yry@cs.yale.edu
Verizon Communications
Steve Marcus
212-395-2363
steven.b.marcus@verizon.com
Pando Networks
Jason Greenwald
212-343-8800
jason@pando.com
DCIA / P4P Working Group
Kelly Larabee
410-476-7965
kelly@dcia.info
###
Contact
Distributed Computing Industry Association
Kelly Larabee
410-476-7965
www.dcia.info

Contact