Silicon Valley Institute of IT (SVIIT) Unveils Its New Live Online Instructor-Led IT Training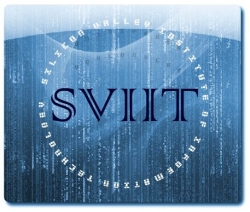 San Jose, CA, September 02, 2010 --(
PR.com
)-- Customers Receive More Training Options with Instructor-led Training Delivered Live over the Internet
Silicon Valley Institute of IT (SVIIT), one of the world's best IT training Institution, announced today that all of its centers in North America now offer live instructor-facilitated courses over the Internet, or 'Classrooms on the Web' via its Online Live-Instructor Led Learning initiative.
In what the company describes as "the next best thing to classroom learning," SVIIT's live-online Instructor-led Learning offers options for students who require flexible alternatives for computer training due to scheduling or geographic issues. It provides the learning solution for busy professionals who don't have the time to spend in the traditional classroom setting.
The SVIIT's live-online Instructor-led Learning experience provides the benefits of the classroom through live instruction, interactive participation, official courseware and chat capabilities with other students. This advanced technology offers students access to hands-on laboratories and online session replays for 30 days after completion of the course.
"The fact remains that the classroom is the most effective way to learn," said Solomon Imdad, president of SVIIT. "With this in mind, SVIIT's live-online Instructor-led Learning was developed to replicate the classroom experience as much as possible. Providing hands-on laboratory sessions, rather than simulations, in high-end technical courses is a good example. Students learn from their own mistakes and gain a far richer understanding than if they just react to a pre-defined set of exercises."
SVIIT's live-online Instructor-led Learning is one of three training modalities offered by SVIIT under its new "Integrated Learning" banner, which is the blend of Classroom Learning with eLearning to provide a single solution for IT training needs. SVIIT's Integrated Learning suite consists of Classroom Learning, SVIIT's live-online Instructor-led Learning and self-paced Online Learning with content parity across all modalities.
"Inconsistency in courseware and learning objectives is a major challenge to training managers that use multiple vendors for their IT training needs," said Brandon Hall, Ph.D., lead researcher and CEO at brandon-hall.com, an eLearning consulting and research firm. SVIIT' ability to provide consistent content across several methods of training ensures that employees are gathering the same training independent of the method that is most suitable to their individual needs. This is a key benefit as flexibility in delivery methods becomes more of a requirement for companies seeking solutions.
"One of the key benefits of our new Integrated Learning offering is that students who are taking a series of technical courses now have the flexibility to take a class in the traditional classroom environment and then, because of work or scheduling conflicts, can shift to an SVIIT's live-online Instructor-led version of the next class," said Mary Imdad, senior vice president of North American operations for SVIIT. "They get the same content, regardless of the method of training."
In addition to content parity across all modalities, Integrated Learning provides SVIIT with the ability to make a unique guarantee, Imdad noted. If a student is dissatisfied with the SVIIT's live-online Instructor-led experience, he or she can take the course again with another instructor or enroll in the same course through Classroom Learning at no additional charge.
"We have seen an increasing demand from customers who are looking for training options that extend beyond the limitations of instructor-led training," Imdad said. "With our Integrated Learning solution, we can provide our customers with a total solution, regardless of what they want to learn or how they want to learn it."
About SVIIT
SVIIT is one of the world's best independent IT training companies. SVIIT provides customer-focused computer training choices by delivering approximately three million student training days per year. For more information, visit
www.sviit.net
###
Contact
Silicon Valley Institute of IT
Suleman Imdad
925-684-7004

Contact