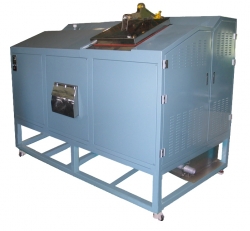 Palo Alto, CA, September 13, 2010 --(
PR.com
)-- GaiaRecycle™ LLC, an industry-leading global provider of organic waste recycling systems, announced that it has signed a Memorandum of Understanding and launched a comprehensive pilot project with Wake Forest University to evaluate GaiaRecycle's functionality, performance and operating procedures for processing and diverting onsite food scraps and other organic waste at the university's campus in Winston-Salem, North Carolina.
During the pilot project, GaiaRecycle is jointly collaborating with Wake Forest University and ARAMARK, its food service management partner, to evaluate the effectiveness of onsite food scraps and organic waste reduction and reuse of the output material. The GaiaRecycle system is being evaluated as a significant solution for diverting the university's waste stream that currently goes to a landfill, and converting waste into to a reusable resource for campus landscaping applications.
GaiaRecycle features modular systems and plant-level implementations, ranging from 220 pounds/day to two tons/day, with patented technology that accelerates the organic decomposition process based on drying, sterilizing and grinding food scraps and organic waste while reducing waste volume and weight by up to 90 percent during its 8 to 11 hours processing cycle. GaiaRecycle also offers an anaerobic digestion solution for producing clean, renewable energy from organic waste to process organic solids with the goal of a zero-impact to landfills.
"Sustainability is a key initiative for the campus and we're looking forward to evaluating the results of this pilot project," said Dedee DeLongpre Johnston, Director of Sustainability at Wake Forest University.
Wake Forest University's primary dining facility, managed and operated by ARAMARK, provides meal services three times per day to the campus' full-time residential students, seven days per week. The GaiaRecycle organic waste recycling system will be used to process the waste stream, and its soil amendment and water output products will be analyzed for possible reuse in the campus composting program and for Wake Forest's landscaping and community garden use.
"We are pleased to partner with Wake Forest University on this initiative and to support the University's goal of diverting food scraps and organic waste," said Matt Lugo, Marketing Programs Manager, ARAMARK.
"Wake Forest University is at the forefront of creating a fully sustainable environment," said Young Song, Chief Executive Officer of GaiaRecycle, LLC. "The success of our alliance with Wake Forest further validates GaiaRecycle's zero-waste initiative, and demonstrates the organic waste recycling and reuse advantages of the system over traditional compost or landfill practices."
About Wake Forest University
Located in Winston-Salem, North Carolina, Wake Forest University (www.wfu.edu) is consistently ranked in the top 30 national universities by U.S. News and World Report and receives high marks for its small class sizes, high study-abroad rates, and commitment to technological innovation. Undergraduate enrollment is about 4,500, and an additional 2,500 students are enrolled in the Graduate Schools of Arts and Sciences, Law, Business, Divinity and Medicine. Wake Forest University's Office of Sustainability supports student, faculty and staff groups in developing strategic initiatives for integrating principles of sustainability into university programs, from teaching and research to public service and campus operations.
About ARAMARK
ARAMARK (www.aramark.com) is a leader in professional services, providing award-winning food services, facilities management, and uniform and career apparel to health care institutions, universities and school districts, stadiums and arenas, and businesses around the world. The company is recognized as one of the "World's Most Ethical Companies" by the Ethisphere Institute, as the industry leader in FORTUNE magazine's "World's Most Admired Companies," and as one of America's Largest Private Companies by both FORTUNE and Forbes magazines. ARAMARK seeks to responsibly address issues that matter to its clients, customers, employees and communities by focusing on employee advocacy, environmental stewardship, health and wellness, and community involvement. Headquartered in Philadelphia, ARAMARK has approximately 255,000 employees serving clients in 22 countries.
About GaiaRecycle, LLC
Headquartered in Palo Alto, CA, GaiaRecycle, LLC (www.gaiarecycle.com) provides innovative organic waste recycling and animal oil extraction solutions to U.S. industries including food service providers, food retailers, food producers and manufacturers, livestock processing plants and compost facilities. GaiaRecycle systems process a wide variety of materials including mixed food scraps, chicken bones and liquids without causing jamming or downtime. GaiaRecycle utilizes patented technology developed by its affiliate company, Gaia Corporation, in Korea that has been implemented in its organic waste recycling systems and deployed in a wide range of commercial and industrial applications in over eight countries since 1992.
Media Contacts:
Pattie Adams, GaiaRecycle, LLC
(408) 393-2567
padams@gaiarecycle.com
www.gaiarecycle.com
Cheryl Walker, Wake Forest University
(336) 758-5379
walkercv@wfu.edu
###