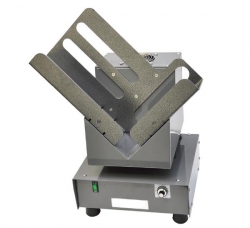 Hot Springs, AR, October 05, 2010 --(
PR.com
)-- Binding.com announces the addition of the Laser 3000 Air
Paper Jogger
to its line of laminators, binding machines and office supplies.
The Laser 3000 Air Paper Jogger prepares documents for folders, inserters, and pressure sealers with minimal static and no need for a cool-down period. Perfect for a laser printer mailroom, the jogger includes features such as adjustable speed and a large bin capacity to handle all weights of paper, cardstock, and envelopes.
"We're excited to offer a paper jogger that can continually operate, with less static and no downtime," NSC International General Manager Bill Hall said. "This paper jogger should really help keep mailrooms efficient and safe."
Binding.com continues to provide an expansive inventory of the finest commercial quality binding machines, office equipment, laminators, and binding supplies.
For more information about paper joggers,
letter openers
,
paper folding machines
,
creasing machines
and mailroom equipment, please contact Binding.com at 1-800-643-1520 or visit www.binding.com.
About NSC International - NSC International,
www.binding.com
, is a subsidiary of EBSCO Industries, a multibillion-dollar international conglomerate based in Birmingham, AL. NSC International is an innovative solutions provider to binding, laminating and digital printing customers worldwide.
###