Internet Entrepreneur Jesse Willms Runs for the Cure
Edmonton Alberta local business man, Jesse Willms, participates in the 2010 CIBC Run for the Cure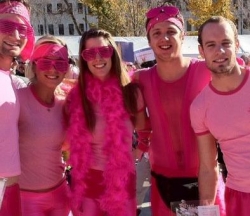 Edmonton, Canada, October 06, 2010 --(
PR.com
)-- On Sunday, Oct. 3
Jesse Willms
participated in the 2010 CIBC Run for the Cure in Edmonton, helping to raise over $30,000 for the Canadian Breast Cancer Foundation.
"While cancer has never affected my life, I have known many people who have suffered from this terrible disease," Willms said. "I wanted to do my small part to help make breast cancer a thing of the past."
The annual Run For The Cure is the largest sponsor for the Canadian Breast Cancer Foundation, which raises money for breast cancer prevention and research. More than 10,000 men and women ran and walked in the Edmonton event, while more than 170,000 participated in similar runs across Canada.
Jesse Willms, well-known Internet entrepreneur turned philanthropist,
started making money online when he was 16 years old, buying and selling computers and software from his parents' home. Within six years he had launched several successful businesses.
This summer he was inspired by Bill Gates and Warren Buffett to start giving money to worthy charities in order to help make the world a better place for everyone. He has focused his philanthropic efforts on charities to help people locally and around the world.
"After partnering with the Breast Cancer Research Fund this summer, helping the Canadian Breast Cancer Foundation seemed like the natural next step," Willms said.
Because Willms' team raised more money for the foundation than any other team at the Edmonton event, Willms was asked to speak to the crowd once the race was over.
"It was inspiring to look out at the thousands of people who had come together this Sunday just to help other people fight the good fight against breast cancer," Willms said.
This summer the Breast Cancer Research Fund was one of several charitable organizations to receive $25,000 donations from Willms.
"To be honest I was a little nervous having to get up there and talk," Willms said. "But one thing these charities have told me is that it's not enough to simply give money. You need to help get the word out and inspire other people to give as well."
Willms said he is going to continue to find ways to help and partner with similar non-profit organizations in the near future.
"You have to do what you can to help other people," Willms said.
###
Contact
Jesse Willms
Dana Wong
866-521-8877
jessewillms.com/?p=269

Contact