Career Experts and Bloggers Unite to Help Job-Seekers in Third Annual Job Action Day
Quintessential Careers marks third annual Job Action Day worldwide on Nov. 1, 2010 -- a day for job-seekers and employers to face realities of the new job market and create new career opportunities -- with fresh and powerful advice from helpful career articles and blog entries from career experts.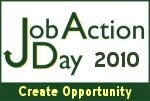 Kettle Falls, WA, October 18, 2010 --(
PR.com
)-- As the unemployment crisis slogs on, it's clear that the new world of work involves far fewer full-time, permanent jobs with benefits than in the past. Job Action Day 2010, the third-annual initiative spearheaded by Quintessential Careers and being held this year on Nov. 1, addresses this new world of work by exhorting job-seekers to look at innovative ways to create opportunity.
A cadre of career experts and bloggers are joining QuintCareers in helping job-seekers confront the new realities of the workforce on Job Action Day, held annually on the first Monday in November.
Some key indicators of this new world of work include:
* Fifty percent of the workforce added in 2010 will be made up of one form or another of contingent workers, says the report The Emerging New Workforce by Littler Mendelson, P.C., which provides employment and labor-law solutions. "As a result," the report states, "approximately 25 percent to as high as 35 percent of the workforce will be made up of temporary workers, contractors, or other project-based labor. The numbers of professionals working in temporary or alternative work arrangements will continue to rise. Flexible work schedules and telecommuting will increase as companies turn towards practical solutions to efficiently complete tasks while retaining talented individuals."
* A looming skills mismatch is preventing some workers from obtaining jobs even as employers increase hiring. During the recession, employers had to make do with fewer workers, and those workers took on more functions. "Now, someone who hopes to get those jobs must meet the new requirements," reports Christopher S. Rugaber in an Associated Press article. Technology has also added to the skills mismatch.
"The workforce as we've come to know it will probably never be the same," said Dr. Randall S. Hansen, founder and publisher of QuintCareers. "Job-seekers must develop a whole new mind-set to thrive in this new world of work. That's why our 2010 Job Action Day theme is 'Create Opportunity,'" Hansen said. "The theme has a double meaning; not only must job-seekers create opportunity, but we encourage employers and the government to find ways to create opportunity, as well."
On Job Action Day 2010, Quint Careers will disseminate information from experts on how to create opportunity*:
* The Proteus Solution: Surviving and Thriving in a Transformational Workplace, by Jay Block, executive career coach and author, West Palm Beach, FL.
* Create Opportunity by Targeting Companies, Not Jobs, by Laura Levine Labovich, chief career strategist, Aspire! Empower! Career Strategy Group, Bethesda, MD.
* How Temp Workers Can Creating Opportunity for Full-Time Hire, by Maureen Crawford Hentz, U.S. manager of talent acquisition, development and compliance at OSRAM Sylvania, Danvers, MA.
* Creating Opportunity in the Nonprofit Sector, by Heather Krasna, speaker and author of Jobs That Matter: Find a Stable, Fulfilling Career in Public Service, Seattle.
* Breakthrough Belief Strategies to Bust Up Limiting Beliefs, Bolster Confidence, and Bring Opportunity to Your Doorstep! by Susan Whitcomb, author, as well as founder and president of The Academies, including Career Coach Academy, Job Search Academy, and Leadership Coach Academy, Fresno, CA.
* Creating Opportunity by Financing and Budgeting for a Career Reinvention, by Randi Bussin, founder and president, Aspire!, Boston.
* Career Myopia: A National Epidemic, by Kristin Cardinale, PhD, author of The 9-to-5 Cure: Work on Your Own Terms & Reinvent Your Life, Milwaukee, WI.
* Getting Paid What You Are Worth -- Especially in Today's Recession, by Don Orlando, career coach and owner, The McLean Group, Montgomery, AL.
* Are You a S.M.A.R.T. Worker? Five Compelling Career Strategies to Make You More Valuable, by Billie Sucher, Billie Sucher Career Transition Services, Urbandale, IA.
* Accelerate Executive Job Search With Personal Branding: A Personal Branding Worksheet, by Meg Guiseppi, "the C-level executive job coach," Andover, NJ.
* Outsiders On The Inside: Creating A Winning Career ... Even When You Don't Fit In, by David Couper, author of a book of the same title, Los Angeles.
* Creating Opportunity with Your Entrepreneurial Mindset, by Nancy Miller, LifeWork coach and director of the Center for LifeWork Design, Sacramento, CA.
* Career Assessments: Tools for Lifetime Career Management, by Susan Guarneri, "the assessment goddess," Three Lakes, WI.
Bloggers who plan to support Job Action Day 2010 with posts on or around Nov. 1 include*:
* Deborah Brown-Volkman: Surpass Your Dreams
* Susan Guarneri, Career Assessment Goddess
* Wendy Terwelp, Rock Your Career
* Laura Levine Labovich, Aspire! Empower!
* Heather Krasna, Heather Krasna's Public Service Career Blog
* Meg Guiseppi, Executive Career Branding
* Willie Franzen, One Day One Job
* Maggie Mistal, Career Advice Blog
* Deborah Shane, Deborah Shane Toolbox
* Debra Wheatman, Careers Done Write
* Darrell Gurney, Career Guy Blog
* Steven Rothberg, CollegeRecruiter.com Blog
* Miriam Salpeter, Keppie Careers
* The Career Management Alliance Blog
*subject to change
In addition, the Quintessential Careers family of blogs, including the Quintessential Careers Blog, Career Doctor Blog, Quintessential Resume and Cover Letter Tips Blog, and A Storied Career, will feature Job Action Day entries.
Job Action Day Site: http://www.JobActionDay.com
About Quintessential Careers: For more than 14 years, this comprehensive career development site has been empowering job-seekers of all ages find their ideal careers and jobs. With more than 4,500 pages of content -- from articles, quizzes, and tutorials -- Quintessential Careers offers visitors no-cost content that can improve their lives.
About Randall S. Hansen, Ph.D. and Katharine Hansen, Ph.D.: Randall Hansen is the founder and publisher of Quintessential Careers. Katharine Hansen is associate publisher and creative director for the site. Both have been involved in the career industry for more than 25 years.
###
Editorial Note: More background about Quintessential Careers can be found at http://www.quintcareers.com/home.html.
Contact
Quintessential Careers
Dr. Randall Hansen
509-738-9009
http://www.quintcareers.com/

Contact