Veterinary Spending Has Grown Almost 10% Since 2009, Says Trupanion
Trupanion analyzes average claim amounts over the last two years to determine a 9.78% increase in canine veterinary spending.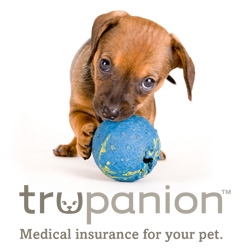 Seattle, WA, November 08, 2010 --(
PR.com
)-- Trupanion, North America's fastest growing
pet health insurance
company, today announced that veterinary spending has increased 9.78% since last year. Trupanion analyzed third-quarter data from 2009 and 2010, looking at average claim amounts for all
dog breeds
(cats were excluded due to the significant difference in claim amounts between cats and dogs). Average claim amounts are based on veterinary costs submitted by policyholders when their dog is in need of medical care. This differs from the amounts paid out by Trupanion to policyholders.
According to the American Pet Products Association, veterinary care is the second highest spending category behind food, with $12.04 billion spent in 2009 and an estimated $12.79 billion spent in 2010. Likewise, a study by BNResearch showed that 76% of pet owners would spend any amount to keep their pet healthy, and 52% of pet owners would always do what a vet recommends, regardless of cost.
While more people are willing to take more drastic measures to save their pet's life, advancements in veterinary services are making it easier to find life-saving options that weren't previously available.
For example, a recent claim from a Trupanion policyholder consisted of several extensive surgeries to heal a dog that was hit by several cars. The total claim amount to date is $11,591.33 and while the dog is recovering, more testing and follow-up veterinary visits are still needed. Before such life-saving surgeries were available, this dog would not have survived.
Techniques and tools available to veterinarians are advancing more rapidly every year.
"We expect to see even more sophisticated technology and procedures being used in veterinary care and therefore even more ways to save a pet's life," said Howard Rubin, who is the Chief Operating Officer at Trupanion and was the founding CEO of the National Commission on Veterinary Economic Issues. "But that also means an increase in veterinary spending. I would imagine that this spending category will not see a drop any time soon."
About Trupanion™
Trupanion™ pet insurance offers cat insurance and dog insurance in the United States and Canada. Trupanion™ is self-underwritten by the American Pet Insurance Company, allowing Trupanion™ to offer a simple, customizable pet insurance policy with no payout limits and 90% coverage of veterinary bills. Enrolled pets receive lifetime coverage for diagnostic tests, surgeries, and medications if they get sick or are injured, with no incident, annual or lifetime limit. Trupanion's mission is to deliver fast, simple and user-friendly financial support to pet owners. For more information about Trupanion™, call 800-569-7913 or visit http://www.TrupanionPetInsurance.com.
About the North American Pet Health Insurance Association
Trupanion™ is a founding member of the North American Pet Health Insurance Association (NAPHIA). Founded in 2007, the North American Pet Health Insurance Association is committed to educating and promoting the values and benefits of quality pet health insurance to North American pet owners, the general public, and the veterinary community. As an association, we are committed to high standards and transparency in all of our actions and products. To learn more, visit the North American Pet Health Insurance Association website at http://www.naphia.org.
###
Contact
Trupanion
Heather Reynolds
800-569-7913
www.trupanionpetinsurance.com
888-738-7478 ext. 3124

Contact