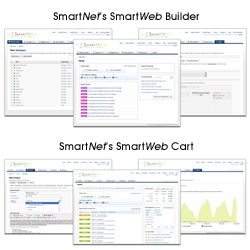 New York, NY, November 10, 2010 --(
PR.com
)-- SmartNet plans to release their revamped website that will showcase two main new features; their new
E-Commerce services
, designed for business owners or web developers and designers, and their updated
Content Management Systems (CMS) services
which allow users to update website content regularly and smoothly. As a year end special and to create buzz over their new site and features, SmartNet is offering a customized logo design for only $1 dollar with the purchase of either one of these two services.
SmartNet offers E-Commerce designs that are capable of handling up to several million dollars of transactions each quarter. They state that they customize their services so that each E-Commerce design is focused and tailored to an individual business' products or services. The shopping cart features permit users to modify their order at any time, save wish lists, register for future purchases and recommends similar products. The E- Commerce services are designed to make a solid and trustworthy impression on potential customers and are made to fit a variety of companies, products, services, and budgets.
The updated CMS services only require an Internet connection and browser for users to be able to modify content. They have modeled the new designs after common word-processing systems to make it an easier transition for clients to learn how to use. The services have been designed to help cater towards non-technical users and businesses with varying budgets. SmartNet's goal in promoting their CMS services is to help bring awareness to businesses and companies of all sizes and industries that Website management does not have to be time consuming or hard. SmartNet is additionally promoting their services for print and online marketing, flash development, Search Engine Optimization (SEO) and Pay-Per-Click advertising campaigns, customized logo design and more.
SmartNet has offices in the New York City and New Jersey area and has been serving local and international clients since 1998. The foundation of their business is based on customer satisfaction and the ability to provide the most modern and custom designed Web services to a variety of industries.
For more information on SmartNet's year end specials or other services, contact 646-450-7699 or visit their site at www.smartnetnyc.com. SmartNet's main office is located at 101 Avenue of the Americas, 15th Floor. New York, NY, 10013.
###