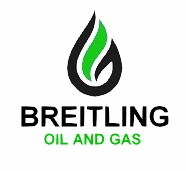 Irving, TX, November 13, 2010 --(
PR.com
)-- Breitling Oil and Gas Corporation, an independent exploration and production company based in Irving, Texas, announced today that it has spud the Trinity #2 in Nueces County, Texas, the second well in the Breitling-Trinity prospect.
The proposed well is located within the Agua Dolce Field about 10 miles west of Corpus Christi, Texas. The well is located within closures mapped at the Lamb Sand, Lockhart Sand and the 7100' Sand above an estimated total vertical depth of 7,500 feet. "These primary sands are tilted upward and terminate on the fault directly on under the Trinity #2 drill location. Additionally, at least 12 secondary Frio sands also terminate along the fault, any of which could be productive and add to the cumulative reserves," says Joseph Simo, Chief Geologist for Breitling.
Management anticipates the well will reach total depth in about 21 days. Well completion and testing should begin in mid-December. Extensive reservoir parameter testing will be conducted on this well and results should be available to management within 2 weeks.
Breitling Oil and Gas CEO Chris Faulkner stated, "We have great seismic data for this prospect, all of which show good trapping and faults beneath our acreage position." Faulkner added, "We are excited to get the Trinity #2 drilled and completed for our shareholders, stakeholders and investors."
Breitling has current oil and gas exploration projects all over the United States.
About Breitling Oil and Gas Corporation
Breitling Oil and Gas was founded in October 2004 to apply state-of-the-art petroleum and natural gas exploration and extraction technology to the development of onshore oil and natural gas projects. Our focus areas include Texas, Oklahoma and Louisiana. Breitling offers oil and gas investment opportunities through direct participation programs and oil and gas investment joint ventures which enable investors to participate in the potential cash flow and unique tax benefits associated with oil and gas investments. Especially important in a downturned economy, oil and gas investments allow savvy investors to diversify and reinforce their investment portfolios with a stable commodity that is in steady demand.
###