Jean Joaillerie Announces the Launch of Its E-Commerce Boutique Showcasing Its Debut Holiday Gift Collection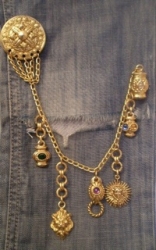 Paris, France, November 15, 2010 --(
PR.com
)-- Jean Joaillerie located in Paris, France opened its doors to the world wide web this week to launch the debut collection of Jan Roberts jean inspired fantasy jewelry line at http://www.jeanjoaillerie.com.
The debut collection features handmade limited edition pieces from the first five themes of the collection: "Crystal Dreams," "African Nights," "Currency Trader," "Gold Rush" and "Endless Summer."
Inspired by the ripped knees of her favorite jeans "Jean Joaillerie" offers designs by Jan Roberts fashioned to be worn directly on jeans or attached to belt loops.
Pieces shown from all the collections can be ordered directly on line.
The "Crystal Dreams" Collection also offers matching bracelets that can be ordered directly on line.
These bespoke one of a kind pieces incorporate quartz crystals from Brazil and Madagascar, turquoise from Tibet, hand carved faience styled scarabs from Egypt, antique vintage coins from all over Europe, wooden beads from Africa, freshwater pearls and one of a kind pieces found at the brocante and antique markets in France.
Each piece is made by hand and crafted on gold and silver metal chains.
Jan Roberts, an American who has been living in France since the mid 1990's said "new designs and themes will be added all the time to keep the line exciting and original."
Jean Joaillerie ships worldwide, accepts all major credit cards, paypal, checks and money orders and offers gift wrapping and free shipping worldwide for the holiday season.
Jean Joaillerie will be sold exclusively through the e commerce site through the end of 2010.
The new e commerce site is located at http://www.jeanjoaillerie.com.
For More Information:
Jan Roberts
Phone: + 33 6 31 71 82 58
E Mail: contact (at) jeanjoaillerie (dot) com
Website: http://www.jeanjoaillerie.com
###
Contact
JEAN JOAILLERIE
Jan Roberts
0672296697
www.jeanjoaillerie.com

Contact