Breitling Oil and Gas CEO to Participate in Shale Gas World Europe 2010
Breitling CEO Chris Faulkner to participate in Shale Gas World Europe 2010.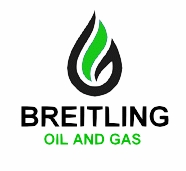 Irving, TX, November 17, 2010 --(
PR.com
)-- Breitling Oil and Gas Corporation, an independent producer based in Irving, Texas, will participate in Shale Gas World Europe 2010 held November 30 to December 2, 2010 at the Hyatt Regency Hotel in Warsaw, Poland.
Breitling's chief executive officer Chris Faulkner will appear on 2 panels during the conference: "Assessing the prospects and tackling the cost challenges for shale gas exploration and production," and "Leveraging knowledge and technology from North America."
Chris Faulkner, Breitling Oil and Gas CEO, said, "We are thrilled to be at the center of such an important topic pertaining to future European gas plays." Faulkner added. "Terrapinn puts on great conferences with lots of top-notch speakers and it's an honor to be included on the list."
For more information on this and other activities of the Company, see the Breitling Oil and Gas website at
http://www.breitlingoilandgas.com
Breitling has current oil and gas exploration projects all over the United States.
--About Breitling Oil and Gas--
Dallas-based Breitling Oil and Gas Corporation is an experienced independent oil and gas exploration and production company. Breitling has thrived since 2004 by leveraging teams of industry experts and creating opportunities for oil and gas investors. With veteran employees and long-term industry relationships, Breitling is uniquely positioned to have the advantage in developing high-quality oil and gas prospects.
###
Contact
Breitling Oil and Gas
Jennifer Jones
972-252-2490
www.breitlingoilandgas.com

Contact