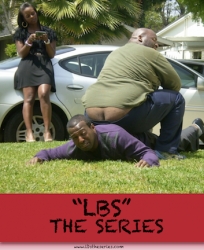 Los Angeles, CA, November 22, 2010 --(
PR.com
)-- The web series "Lbs" has its official online premiere and website launch November 25, 2010. The series follows the morbidly rotund character Robert "Tummy" Wright (Mo Hines) as he relates to the online social community of Fat Ass Anonymous. Tummy, a reluctant dieter misuses the FAA site as a dating service and personal video diary. The www.lbstheseries.com website will air new episodes every Wednesday 12pm est. following the Thanksgiving November 25, 2010 premiere. The website also serves as a chronological log for actor Mo Hines weight loss of 75lbs between the first and second seasons of the series.
Mo Hines, a former offense lineman for the University of San Jose State majored in TV/Film. Mo is dedicating the entire first season of the web-series to former football linemen from Division I, II and III collegiate programs. As defined by the National Collegiate Athletic Association, these athletes are prone to risk factors indicating they had metabolic syndrome based on measures of waist circumference, glucose levels, high-density lipoprotein (HDL, or good cholesterol), blood pressure and triglycerides. Two recent studies in the Journal of the American Medical Association and the Journal of Pediatrics found that weight problems among high school football players, especially linemen, were much greater than those of other young males. The problem tends to be greater among linemen, since they are typically the biggest players in football. And the size of these athletes appears to be increasing as time goes on. Another study in the Journal of the American Medical Association found 45 percent of young linemen were overweight and 9 percent had severe adult obesity. That compared with 18 percent of male children and adolescents overall who are overweight. Fans and supporters with weight loss goals are encouraged to track Moe's progress and comment on their own fitness triumphs. The character "Tummy" has an immediate health goal of shedding 20 pounds by the New Year.
The 11 episode series includes guest stars: Brooklyn McLinn (Friends with Benefits, Parenthood, Hawthorne), Tabitha Brown (Outrighteous, Helpless), Brely Evans (Just Wright, Douglass U), Laila Odom (Dysfunction Friends, Video Girl), and is directed by Amin Joseph (The Expendables, The Mist, Sex Chronicles) and is produced by Heavy Hines Entertainment. "Lbs." currently has a hit music video to the show theme tune "Rub My Tummy" performed by Mo Hines and featuring Brely Evans and Salina Soto available on iTunes.
###