Toys for Tots Drop-Off Location Hosted by CS3 Technology
Annual Toys for Tots participation allows for family and workplace to come together to benefit the community.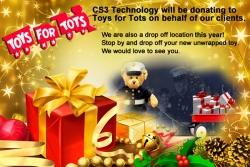 Tulsa, OK, November 24, 2010 --(
PR.com
)-- CS3 Technology, a leading professional services firm offering HRMS and ERP applications to businesses across the country, is pleased to announce their participation in the U.S. Marine Corps' Toys for Tots annual campaign.
CS3 Technology started the tradition last year where the funds spent on client holiday cards and gifts were reallocated to participating in the Toys for Tots program on behalf of their clients. Each CS3 Technology employee is given a budget to purchase toys for the program. This gives the employee the opportunity to involve their family in support of a program that benefits so many children during the holiday season. CS3 Technology chose the Toys for Tots program as several employees have family who are active or reserve in the U.S. Marine Corps.
"We had such positive feedback from our employees and our clients last year, that we absolutely wanted to participate again," said Gary Crouch, CS3 Technology's CEO. "We furthered our involvement by deciding to become a drop-off location as well. If there are more convenient drop-off locations, our hope is that more people will contribute toys and help more kids." New, unwrapped toys can be dropped off at CS3 Technology's office Monday through Friday, from 8 am – 5 pm. The office is located at 5272 S. Lewis Avenue in Tulsa.
"We are looking forward to a celebration luncheon on December 16 where local Marines will come to the office to pick up the toys," said Gary. "It is the least we can do to thank those who serve our country and who serve our community."
The mission of the U.S. Marine Corps Reserve Toys for Tots Program is to collect new, unwrapped toys during October, November and December each year, and distribute those toys as holiday gifts to needy children in the community in which the campaign is conducted. The program was started in 1947.
About CS3 Technology
CS3 Technology offers complete business management consulting services to companies wanting to increase internal efficiencies through proven technology applications. CS3's two-pronged approach features up front due diligence ensuring a proper recommendation and a detailed methodology ensuring a successful implementation. CS3's background spans several decades of experience centered on business processes, employee benefits and information technology. Our consultants have a shared skill set of relevant experience and product expertise. CS3 has selected to work primarily with products developed by Sage. Most recently CS3 has been recognized with the elite President's Circle recognition from Sage and recognized nationally as a Technology Pacesetter. CS3 is committed to maintaining the highest ethical standards and professional growth through its active involvement in the American Institute of CPAs, the Information Technology Alliance, the Sage Software Leadership Academy's Alumni Association, the HRMS Group and the Oklahoma Society of CPAs. For more information please visit
www.cs3technology.com
.
###
Contact
CS3 Technology
Gary Crouch
877-496-1600
www.cs3technology.com

Contact