HealthyFeetStore Provides Largest Shoe Sponsorship Ever at Pendleton
HealthyFeetStore sponsored Camp Pendleton Marine Base's "Family Team Building Health Promotions" event by providing 150 women's casual and dress shoes. This $20,000 in-kind sponsorship is the largest shoe sponsorship ever to the Marine base.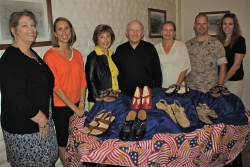 San Diego, CA, November 25, 2010 --(
PR.com
)-- A local online business provided a $20,000 in-kind sponsorship to the wives of Marines at Camp Pendleton. The sponsorship consisted of 150 new pairs of women's casual and dress shoes. It is the Marine base's largest shoe sponsorship ever.
HealthyFeetStore
provided the Marine Corps Community Services organization with the 150 pairs of women's casual and dress shoes on Oct. 29 for the MCCS's Marine Corps "Family Team Building Health Promotions" event. The shoes included manufacturers Naot, PW Minor & Sons and Peppergate.
Sources for the Marines said a bulk of the 150 pairs of women's shoes will be distributed in baskets throughout the holiday season to various families at Pendleton, and the rest will go to other programs.
"While we appreciate the men and women in active duty who serve our country in time of war, we thought it necessary and very appropriate to recognize and show appreciation to their wives and loved ones for their efforts caring for families and children," said Marty Backer, VP and co-owner of HealthyFeetStore.
HealthyFeetStore plans expanded versions of annual holiday shoe sponsorships and donations to local organizations and charities. It expects to give more shoes around Easter.
About HealthyFeetStore: We are an online foot wellness store. Our goal is to promote proper foot care, footwear and foot-friendly lifestyle choices. We carry the Internets' most comprehensive selection of Podiatrist-recommended foot care products and orthopedic and therapeutic shoes that are not only good for feet, but are also fashionable. We are committed to providing quality orthopedic shoes and doctor-recommended foot care products that provide reliable comfort, support and injury prevention. To find out more information about this up-and-coming online store, please visit
www.healthyfeetstore.com
.
###
Contact
HealthyFeetStore
Rich Backer, CEO of HealthyFeetStore
1-858-547-8800 ext. 102
www.healthyfeetstore.com
Toll Free: 1-866-324-3338

Contact