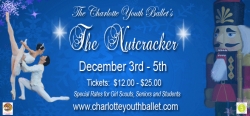 Charlotte, NC, November 28, 2010 --(
PR.com
)-- The Charlotte Youth Ballet (
www.charlotteyouthballet.com
) delivers once again this year with the return of its 28th annual production of "The Nutcracker." This holiday family favorite brings to life the dreams of a young girl, complete with dancing snowflakes, a dashing prince and sugar plum fairy. With Tchaikovsky's brilliant score, lavish sets, opulent costumes, magnificent local dancers and International principal artists, this Nutcracker never fails to enchant audiences of all ages.
The Charlotte Youth Ballet is a regional ballet company that preserves and promotes the art of ballet, empowers youth and connects youth and professional dancers in performances that bring joy to Charlotte and surrounding communities. For over a quarter of a century, the Charlotte Youth Ballet has proudly produced professional-quality Nutcracker and storybook ballets that merge a principal cast of professional international dancers and local students of ballet.
Read below to see how the Charlotte Youth Ballet molds the lives of young adults through dance. The excerpt is from an essay written by Katrina Ashlin. Katrina has trained at one of Charlottes premier ballet studios and danced in CYB performances for years. This year Katrina has been cast as one of CYB's Clara's...
"I can smile in front of thousands of people while my toes bleed, bunions throb, and blisters tear. As I force my pointe shoes onto my battered feet, there is no pain or misery... only the dazzling spotlight, the awareness of an expectant audience, and me – empowered, capable, and confident.
"I love the physical and mental power of ballet. I think of the performance process as a long, elegant mathematical problem that incorporates physics and anatomy. Spatial awareness is essential when dancing with other dancers, gravity and friction limit the force of movements, and physical strength aligns the dancer with the body's natural movements.
"Off-stage, at school, I am somewhat reserved, and the thought of public speaking makes my stomach flip. However, ask me to perform the Lilac Fairy solo variation from The Sleeping Beauty and I would leap at the offer -- literally. Ballet has taught me how to become fearless, even in the face of failure. Now, ingrained in me, is the ability to enter a room and take command. Dancing in general has taught me how to feel comfortable expressing myself, and performing has trained me to capture people's attention whether on stage, or during an AP U.S. History presentation."
Join Katrina and others just like her this year for the Charlotte Youth Ballet's The Nutcracker.
Performance Dates: Fri, Dec 3rd at 7p; Sat, Dec 4th at 1:30p & 5:30p and Sun, Dec 5th at 2:30p
Location: Halton Theatre, CPCC's Main Campus; Overcash Building; 1206 Elizabeth Ave., Charlotte. Parking is free.
Tickets: $12-$25, Discounts for children 14 and under and seniors and over and Groups.
To order tickets: http://tix.cpcc.edu; www.carolinatix.org;
###