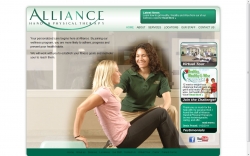 Westwood, NJ, January 18, 2011 --(
PR.com
)-- Alliance HPT, a multi-clinic physical, occupational and aquatic therapy practice based in Northern New Jersey, revitalizes its campaign to further promote healthy lifestyle choices among its clients by revamping its website with innovative and useful features, highlighting the addition of a dedicated space for its Healthy, Wealthy and Wise Challenge.
The Healthy, Wealthy and Wise Challenge (HWW), is a weight loss contest that Alliance spearheaded three years ago to provide a community-based initiative that promotes health and fitness among its clients. Due to the great success of the program, Alliance has created a dedicated "mini-website" for this year's challenge which will provide useful features for those who wish to participate.
Joining this year's Healthy, Wealth and Wise Challenge has been made easier through the website's online registration process. The website will also feature additional information and innovative features which include testimonials, RSS feed for relevant health news, fitness tips and easy-to-do recipes and an exercise video series to guide participants during the competition.
Most of all, Alliance has added the Healthy, Wealthy and Wise Challenge tracking system which provides up-to-date information about each challenger's standing in the competition. The HWW Challenge tracking system aims to motivate participants and help them exceed expectations by showing their status in a fun graphical interface. The tracking system can also become a great tool for challengers to form strategies on how to beat their competitors.
For more information about Alliance HPT and the Healthy, Wealthy and Wise Challenge, please visit http://www.alliancehpt.com.
Alliance Hand and Physical Therapy was founded in 2002 by Pamela Muscara, PT MBA, and Stephanie Franklin-Cosgrove, OT, CHT who has over 30 years of physical and hand therapy experience combined. In just eight years of operation, Alliance has grown to have seven clinics in Northern New Jersey and is dedicated to providing comprehensive, compassionate care through aquatic therapy, physical therapy, and hand therapy, supported by dedicated wellness and prevention programs. Alliance strives to enhance the quality of life for its patients and for their communities. For more details, please visit http://www.alliancehpt.com/hww
###