Recent Installation of Rinox Products Solves Homeowners' Backyard Noise and Flooding Issues
Homeowners in New York were prepared to sell their home due to water and noise issues in the backyard. Installation of Rinox products solved the problem while transforming it into the yard they've always wanted.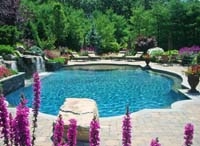 Douglassville, PA, February 22, 2011 --(
PR.com
)-- This home, located in a suburban neighborhood along the North Shore of New York, was the pride and joy of its owner, except for one glaring drawback; the backyard area beyond the small patio was nearly unusable due to a heavy slope and constant water issues. These issues also affected a sports court area in the corner of the property. Also, being located near a busy road, the homeowners were consistently bothered by both traffic noise and the intrusion of car lights when spending time in the back yard area. With the desire to use the existing property for entertainment, both personal and for business purposes, and without a prior solution to these problems, the homeowners were strongly considering moving.
As the Team at Donno Landscaping approached the design of this project, they soon discovered that the necessary work would expand beyond the original plans. The original
patio
was removed and new footings for upper walls were reinstalled for proper depth and structural integrity. The outdoor barbecue area was moved to gain a better view of the new pool area from inside the home. Truckloads of natural stone boulders were delivered in an effort to create a large waterfall area as the centerpiece of the backyard. Adding not only natural beauty to the pool deck, this addition proved to be the perfect sound buffer to any passing traffic. Grading the backyard proved to be a challenging task, as unique means of drainage stone, piping and dry wells above the sod areas provided a dry and park-like setting regardless of weather. To define the outer areas of the free form pool,
walls
were designed to include dry stacked Colonial Bluestone meticulously crafted and placed. Natural bluestone treads were cut to serve as the coping along the edge of the pool. Tying the natural stone beginnings of these areas to a functional patio and pool deck left Richard Donno with one choice for paving material. Rinox's Palazzo Modulo was chosen to accent these areas with the colors of Panama Beige and Milton Grey, to provide the needed blends of subtle brown and grey tones. The larger Palazzo 12x12 size was mixed in to provide symmetry to the enormous boulders cascading water each day. Large Arborvitaes were used and planted at an initial height of 12-14 feet to provide instant privacy from outside surroundings. Also, with a range of smaller plant material to add color, Cut Leaf Maples and various Boxwoods were added with perennials and annuals to provide season round color and vibrancy.
The result of months of design, dedication, and hard work by Donno Landscaping, Inc. created a backyard retreat that not only met the client's expectations, but created a year-round entertainment area that is the envy of neighbors and friends. Donno Landscaping provided solutions to a project that was merely a concept and a dream at its inception, and truly built a backyard oasis that will be enjoyed for years to come.
About Rinox:
Rinox Pavers is an industry leading manufacturer of concrete paving stones, patio
pavers
, retaining wall systems, landscape block and masonry products and has continued to make dreams come true in private homes and commercial settings throughout the Northeast United States and Eastern Canada. Rinox distributes their material through authorized dealers from their Pennsylvania facility to New York, New Jersey, Pennsylvania, Delaware, Maryland, Washington D.C., North Carolina, Virginia, and West Virginia. Rinox proudly displays their hardscape materials at local outdoor showrooms and offers instructional classes for the do-it-yourselfer. For those interested in having a contractor quote a hardscape project, log on to www.rinoxpavers.com to get started.more information, or to enter your Rinox job into our "Project of the Month" contest please contact us at
www.rinoxpavers.com
or call 1-866-99-RINOX.
###
Contact
Rinox
Ira Vosper
610-323-6600
www.rinoxpavers.com

Contact