Flexfit Headwear Worn Throughout 2010 Justin Timberlake Shriners Hospitals for Children Open
Flexfit custom embroidered headwear kept attendees, golfers and volunteers covered at the 2010 Justin Timberlake Shriners Hospitals for Children Open in October 2010 (AP Images attached).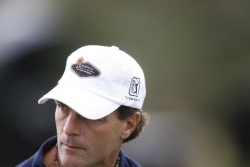 Fullerton, CA, January 21, 2011 --(
PR.com
)-- From the picturesque TPC Summerlin Golf Course in Las Vegas, Nevada in October 2010, Flexfit headwear helped to create a festive and meaningful atmosphere at the Justin Timberlake Shriners Hospitals for Children Open, an annual stop on the PGA TOUR designed to raise money and awareness for Shriners Hospitals for Children.
The JT Shriners Open kicked off with the Fiji Water Youth Golf Clinic hosted by Pro-Trickshot Artist, Peter Johncke and tournament host Justin Timberlake. The Youth Clinic was filled with local kids from the community including the Boys and Girls Club, and patients from Shriners Hospitals for Children. "Just before the youth golf clinic we had a young man who had just had seven surgeries, and his golf game is amazing. He was out on the golf course with Justin to warm up before the youth clinic as the crowd came in," explains John Slattery, Director of Marketing for the JT Shriners Open. During the youth golf clinic trickshot artist, Peter Johncke challenged host Justin Timberlake to perform a "Happy Gilmore" (ala the classic comedy film) where Justin had to run up to the golf ball and hit it, and Justin delivered," explained Slattery.
Throughout the Fiji Water Youth Golf Clinic, kids shielded themselves from the elements with their
custom embroidered Flexfit hats
emblazoned with the official Justin Timberlake Shriners Hospitals for Children Open logo. Volunteers, various staff members, spectators and some players also wore their custom Flexfit hats throughout the multi-day charity golfing event.
The Pro AM portion of the event was a star-studded event as celebrity amateurs who played in the Pro AM included NFL legends Emmit Smith, Jerry Rice and Heisman Trophy winner Doug Flutie. Famous musicians Kenny G and JT Shriners Open host Justin Timberlake also played their best golf game alongside the pros.
"Capping off" this memorable week, so to speak, was a history making hole-in-one achieved by Jonathan Byrd, giving him first place in the JT Shriners Tournament. "At the end of the tournament three guys tied for the lead for three consecutive holes. They went to the fourth hole and it was getting dark. Jonathan Byrd hit his shot 240 yards and it went right in the cup. It was the first time a PGA TOUR Event ever ended with a hole in one," exclaimed Slattery. As dusk approached Byrd's winning shot landed about 10 feet from the hole on the Par 3, 204 yd. 17th hole and rolled in, causing the golfer to take a closer look to see that he actually made the record breaking victorious shot. Byrd proudly claimed his winning trophy surrounded by young patients from several of the 22 Shriners Hospitals for Children located throughout the United States and Canada.
Flexfit is proud to have sponsored the JT Shriners Open for the second consecutive year, as proceeds benefit Shriners Hospitals for Children. Shriners encompasses 22 hospitals across North America that specialize in helping to improve the lives of children through specialized pediatric care, research and teaching programs. Shriners treats children with orthopedic conditions, spinal cord injuries, burns and cleft lip and palate. Families afflicted with these conditions are eligible for treatment at Shriners Hospitals for Children regardless of their ability to pay. As a 501 c (3) non-profit organization Shriners relies on its donors and fundraising events to provide outstanding medical care, to conduct innovative research and to remain a leader in pediatric medical education.
In addition to Flexfit's sponsorship of the Justin Timberlake Shriners Hospitals for Children Open, other sponsors included: Fiji Water, Coca-cola, Kodak, TPC Summerlin, Dell, The Golf Channel, Golfweek, Hewlett Packard, and Palm Restaurant to name a few.
For more information, visit
www.jtshrinersopen.com
.
About Flexfit
Through hard work, superior talent, and unmatched standards Flexfit developed into a leader in headwear. Today, Flexfit exports hats to sixty countries worldwide. The patented Flexfit brand is recognized around the globe for top quality. Every year Flexfit introduces groundbreaking styles and innovations that set new standards for the competition to try and follow. To learn more about Flexfit brand
headwear
visit
www.flexfit.com
.
See image attachments for AP Images from the 2010 Justin Timberlake Shriners Hospitals for Children Open featuring Flexfit headwear.
###
Contact
Allison Dawn Public Relations
Allison Kugel
516-942-0264
www.flexfit.com
www.allisondawnpr.com

Contact