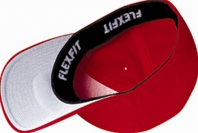 What is a brand? To some companies, it's a world famous logo. Others rely on the celebrity du jour to stand for everything they are all about. And a few let their flamboyant, headline-grabbing CEOs do all the talking...

But then there is this one brand that focuses all of their energy on just one thing: Hats. Their name? Flexfit. Let's talk about them a little longer, shall we?

Worn by the World - Our Mantra
Through hard work, superior talent, unmatched standards, and the greatest product line in headwear, we've become a leader in headwear. Today, we export hats to 60 countries worldwide. Our patented Flexfit brand is recognized around the globe for top quality. Every year we're introducing groundbreaking styles and innovations that set new standards for the competition to try and follow. Of course, by the time they catch up, we're already on to something completely different.

The Human Element
Hold a Flexfit hat in your hands and you can feel it. The energy of the designer who stayed late at work coming up with the initial idea. The care of the men and women who stitched it together. The pride of our sales and marketing department as they boast about quality and care. The feeling of comfort experienced by the soon-to-be owner of the hat, trying it on at the store.

Looking Out For Mother Nature
No matter how much we love what we do, in the grand scheme of things, we're just making hats here. We know there are more important things in life. Like having a positive impact on the world, not a negative one. And that especially holds true in regards to our environment. Taking short cuts to stretch out profits is just bad business, period. So all our materials and processes are carefully selected and monitored to ensure they aren't harming our planet. We look to tough European standards as our benchmark, as well as companies whose environmental policies we admire. So you can rest assured our hats stand for both quality and environmentally friendly business practices.

The Youth Market - Growing and Growing
Kids, tweens and teens - the youth oriented market keeps getting bigger and bigger. And their buying power and savvy keeps growing too. They can check out the latest fashion trends online, pull out their own credit cards, and make purchases faster than a parent can ask, "Have you done your homework?" And when they're not online, there's a good chance they're laying siege to your local shopping mall. But as adult as all this sounds, they're still just kids. Last we heard, kids still like to run around with their friends, play in the backyard, and just have fun. All moments that call for wearing hats. So every year we're introducing more and more styles sized especially for them. Because if we don't, someone else will. And they won't do nearly as good a job.

Service With More Than A Smile
By now you've surely gathered how conscientious we are about the products we make. We're proud to say that same care and dedication goes into our relationship with you. We tailor our services to your individual needs, from design and sample provision to production and delivery. We'll work closely with you to create the hats you want. And if that hat happens to be one that's never been made before, we'll figure it out. And once we've delivered your shipment to you, we won't just disappear until it's time to fill another order. We'll always check in to make sure you're completely satisfied. Because after all the hard work and effort we put into our hats, we wouldn't have it any other way.

So What Is A Brand?
We could've filled this entire catalog with page after page of Flexfit's hopes, history, legacy, and aspirations, but that wouldn't have left much room for what we're all here to talk about. Hats. And beside, that's what our brand is all about. Our headwear truly symbolizes the philosophy behind our company: quality, care, innovation, responsibility, and of course, fun. You'll feel it when you wear one of our hats. You'll feel it when you talk to us. (And we do hope that's soon.) Thanks for reading.
Status

Private Company