Single. Women. Entrepreneurs: New Book on Fast Growing Demographic in the U.S. Released
The book, Single. Women. Entrepreneurs. exploring thirty single women entrepreneurs' lives, is now available by author Erin Albert and Yuspie, LLC.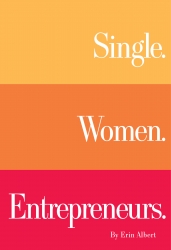 Indianapolis, IN, February 03, 2011 --(
PR.com
)-- Indiana author Dr. Erin Albert releases her sixth book exploring one of the fastest growing populations of entrepreneurs in the U.S.—the single woman.
"I am a single woman entrepreneur of two different companies. Now that the number of single adult women in the U.S. is higher than married women, coupled with the fact that more women than men graduate from college and graduate schools now, I wanted to know what other solopreneurial women were doing in the U.S. to become successful with their businesses," said Albert. "My purpose in compiling stories from other single women entrepreneurs from around the U.S. is to inspire and show other young women that owning a business as a single women can be a reality."
"Dr. Albert picked up on the trends surrounding women: 80% of valedictorians are women, women still live longer than men, and women make more of the purchasing decisions at home and more and more in business, etc. However, most of the books on entrepreneurship are written by men, for men. Women, especially generations X and Y, want to make their business and personal lives and aspirations work more in harmony. This book shows how women are doing just that," commented Jennifer Ruby, Attorney-Owner Ruby Law, and one of thirty women interviewed in the book.
Albert interviewed women from around the U.S. who were single when they started their own original businesses. Some subsequently married, some are still solo, and others were widowed and divorced. "The common theme for these women is that they began without a plan B—they were on their own through the start up process, which is an extremely difficult process to live through," according to Dr. Albert.
The book, Single. Women. Entrepreneurs., is now available on Amazon.com (http://tinyurl.com/492jgrr) and Barnes & Noble (http://tinyurl.com/466naqt), and in bulk order quantities from the publisher, IBJ Book Publishing, at (317) 634-6200. The book should also be available through traditional booksellers in 30-45 days. Albert is hosting a book launch party in Indianapolis at Butterfly Consignment, by owner and another woman interviewed in the book, Niquelle Allen, Esq. later in the month.
About Yuspie, LLC: Yuspie, LLC or Young, Urban, Single Professionals of Indiana is a informational resource and portal for the young professional of central Indiana. For more information on the company, logon to: yuspie.com. For more information on the author, Erin Albert, logon to her writing site at: erinalbert.com.
###
Contact
Yuspie, LLC
Erin Albert
317-698-3202
www.yuspie.com

Contact