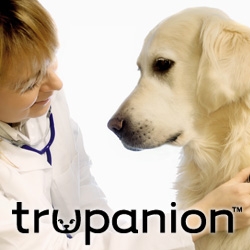 Seattle, WA, February 14, 2011 --(
PR.com
)-- Trupanion, the nation's fastest-growing
pet insurance
provider, knows that Valentine's Day is a big day for exchanging gifts that could be hazardous to pets. Trupanion regularly receives pet insurance claims for chocolate poisoning and plant poisonings which could be more commonplace on the 14th of February.
Here is a list of the potential dangers to cats and dogs that can be found during Valentine's Day and how to avoid them.
Chocolate – Chocolate contains caffeine and theobromine, which are toxic to pets. Ingestion could lead to heart damage and central nervous system damage. Make sure all chocolate is kept well out of pets' reach. Recent claim for chocolate poisoning - $997.34.
Ribbon – The accidental ingestion of ribbon used to wrap gifts can cause bunching in the intestines and may require emergency surgery. Remember to clean up any wrapping supplies once gifts are wrapped and again after they are opened. Recent claim for foreign body ingestion – $1,705.01.
Alcohol – Even a small amount of alcohol is poisonous to pets. Make sure all bottles, cans, and glasses are kept out of pets' reach and put away quickly after consumption. Recent claim for alcohol ingestion - $424.90.
Flowers – If ingested, many flowers are harmful to pets. Lilies are particularly toxic to cats and tulips can cause stomach irritation, vomiting, diarrhea. Display all flowers high on tables and countertops not easily accessible to cats and dogs. Recent claim for plant ingestion - $529.95.
Candles – Many candles can easily be knocked over, causing not only harm to your pet if he is nearby, but harm to the entire house. Keep a close eye on open flames and never leave them unattended. Recent claim for burn - $241.00.
Stuffed Animals – Those that are not made for pets may contain small parts, buttons, eyes, etc. that can be harmful if swallowed. Make sure it's clearly defined which toys are acceptable for your pets and which are not. Recent claim for foreign body ingestion – $1,621.00.
Trupanion's goal is to spread awareness about potential Valentine's dangers to pets as well as the benefits of pet insurance. By being conscious of what is harmful to pets, pet owners can prevent costly trips to the vet and even save their pet's life.
About Trupanion™
Trupanion™ pet insurance offers cat insurance and dog insurance in the United States and Canada. Trupanion™ is self-underwritten by the American Pet Insurance Company, allowing Trupanion™ to offer a simple, customizable pet insurance policy with no payout limits and 90% coverage of veterinary bills. Enrolled pets receive lifetime coverage for diagnostic tests, surgeries, and medications if they get sick or are injured, with no incident, annual or lifetime limit. Trupanion's mission is to deliver fast, simple and user-friendly financial support to pet owners. For more information about Trupanion™, call 800-569-7913 or visit http://www.TrupanionPetInsurance.com.
About the North American Pet Health Insurance Association
Trupanion™ is a founding member of the North American Pet Health Insurance Association (NAPHIA). Founded in 2007, the North American Pet Health Insurance Association is committed to educating and promoting the values and benefits of quality pet health insurance to North American pet owners, the general public, and the veterinary community. As an association, we are committed to high standards and transparency in all of our actions and products. To learn more, visit the North American Pet Health Insurance Association website at http://www.naphia.org.
###