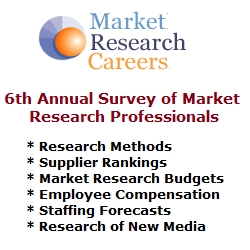 Stamford, CT, March 02, 2011 --(
PR.com
)-- In the sixth edition of the
Annual Survey of Market Research Professionals
recently released by MarketResearchCareers, nearly half (48%) of all research organizations described 2010 as a "fantastic" or "good" year -- up from 30% in the prior year.
"With market research budgets modestly expanding rather than contracting by double-digits as in 2009, the expectations for a strong 2010 were fully met," said Mike Carroll, Director of Sales and Marketing for MarketResearchCareers.
Further reinforcing a continuing positive sentiment, an increasing number of research organizations expect to hire in 2011 (up from 43% in 2010 to 51% in 2011) while fewer expect to conduct layoffs (down from 16% in 2010 to 11% in 2011) in the coming year.
The report also reveals, however, that more than one-third (37%) of all market research professionals expect to search for a new position in 2011 -- citing dramatically increased workloads resulting from reduced staffing levels.
"Despite an average salary increase of $3,200 in 2010 among research professionals, we anticipate heightened employee turnover after any year-end bonuses are paid originating from: (i) greater demand, and (ii) the desire for new challenges among employed, highly skilled research professionals," said Carroll. "Organizations seeking to expand their staff with seasoned researchers should move before employers enact retention initiatives to keep their most talented employees," said Carroll.
The survey was conducted between January 5 and January 23, 2011 with 550 market research professionals completing the survey—providing a data tolerance of +/- 4.2%.
For more information about the report, please visit: http://www.marketresearchcareers.com/2011
About MarketResearchCareers
MarketResearchCareers is the career website with the most comprehensive database of resumes and jobs focusing exclusively on the Market Research industry.
Visited monthly by nearly half of all market research professionals in the United States and possessing the resumes of more than 40,000 market researchers, MarketResearchCareers is your market research staffing headquarters. See why so many corporate hiring managers, human resource professionals, market research suppliers, and thousands of skilled researchers turn to MarketResearchCareers to fill their market research jobs.
Visit us on the web at http://www.marketresearchcareers.com/ or call us at 1-800-872-5401.
###