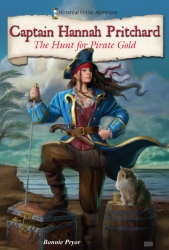 Berkeley Heights, NJ, March 16, 2011 --(
PR.com
)-- This series begins in 1777 when the American colonies are fighting for independence from Britain. Hannah Pritchard is the only member of her family to escape an attack on her family's farm. Disguised as a boy, she signs on as a cabin boy on an American privateer ship. When the ship is attacked by the British, Hannah and her friends escape with a chest of treasure that they bury on an island before they are captured the following day. After months in captivity they manage to escape and with the help of friends they capture another British ship and sail to Portsmouth, New Hampshire.
In this third and final book, "Captain Hannah Pritchard: The Hunt for Pirate Gold," the year is 1780 and Hannah and her friends continue on their exciting sea voyages. They must complete some important missions for the Continental navy and outsmart an enemy pirate in a race to bring home the buried treasure.
"Although these stories are fictional, author Bonnie Pryor has created fabulous adventures that reference real people and events," says Mark Enslow, President. "These titles appeal to readers in grades 3–6 and can be read independent of each other or as a trilogy. We've included a section at the end of the book called "Real History Behind the Story" which includes true facts about this important turning point in the American Revolution that takes place at the time of Hannah's story."
The
Hannah Pritchard trilogy
includes:
Book 1: Hannah Pritchard: Pirate of the Revolution 978-0-7660-2851-7
Book 2: Pirate Hannah Pritchard: Captured! 978-0-7660-3310-8
Book 3: Captain Hannah Pritchard: The Hunt for Pirate Gold 978-0-7660-3817-2
"Hannah Pritchard: The Hunt for Pirate Gold," will be available September 1, 2011, and can be purchased along with the previous books in the trilogy, direct from Enslow Publishers, major book distributors, retail bookstores, and online retailers. All the titles in this series will also be available in paperback and e-book format this fall.
Enslow's award-winning titles have been recognized by organizations such as the American Library Association, the NAACP, the National Council for the Social Studies, and the Society of School Librarians International.
Schools or libraries that are interested in learning more about Enslow Publishers, Inc. and their titles can visit enslow.com or contact them directly by calling 1-800-398-2504 for more information.
###