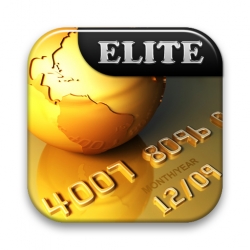 Pleasanton, CA, March 18, 2011 --(
PR.com
)-- GeniusWave announces Travel Cards for Android. The travel and utility application is a break-through for travelers to manage and use their loyalty programs, supporting over 1000 cards. The new 2.0 release is available in over 10 Android App Stores, and provides new Cloud Sync for backup and sharing, as well as enhancements to other popular features like Card Flow, High Fidelity Image View, and My Top Cards.
The new Travel Cards application puts loyalty programs on your phone, and at your finger tips. Travelers earn and use their rewards, while reducing the clutter and hassle of plastic cards or stored notes. Travelers won't lose out on rewards because they can't find their cards, numbers, or a mixed match of expired dates and membership types.
Travel Cards has been built for the traveler, where you can step up to the counter, flash your high fidelity image and get the points and treatment you deserve. Travel Cards' innovative display shows details just like the plastic you seem to never have, including your status and people see it right away. Finding your cards is not a problem. Flip through using Card Flow, browse with List View, or use powerful search tools. A Top Cards folder can be created to organize frequently used cards. Security concerns? Your cards are protected with pass code and advanced security features, including online backup with Cloud Sync and data purge if your phone is lost or stolen.
"We have had very positive feedback and ratings from our earlier users," said Greg Dierickse, Founder and CMO at GeniusWave. "Travelers see this application as a must have, including one comment about the app working like how a traveler travels, you flash high fidelity images at counters and quickly access customer service or web sites when things go wrong." Erwin Chiong, Founder at TrendsGlobal and Developer of TravelCards adds, "By having over 2000 users before the launch, we have been able to ensure the app works well, and is designed for the Traveler. GeniusWave, as a mobile application publisher has also helped get the app out to over 10 stores worldwide, including Android Market, TMobile, Sprint, AT&T, GetJar, Vadofone, SingTel and others. Since travel is worldwide, this is critical for reaching our customers."
The key features that travelers have come to rely on include:
Simplify your travel:
· Create card libraries from over 1000 cards and programs. Users can organize most frequently used with Top Cards, or quickly find your cards by using Card Flow, List View or two types of search.
· Browser based access and sharing using Cloud Sync. You, or your family, friends and business assistants can view, or store card information in an online database.
Get recognized. Don't miss out:
· Flash a high fidelity image of your card and be recognized. Users can access program details through direct links to websites and phone numbers.
· Give access to family, friends or business assistants to help you manage your programs.
Protect yourself:
· Set the level of security that best fits you, from none to medium or high. Secure information with pass code protection and have data purged with advanced setting if your phone is lost or stolen.
· Sync information in an online database, a Cloud, to backup and help protect against lost data.
For more information, screenshots or a demonstration, go to: www.geniuswave.com/travelcards.
About GeniusWave
GeniusWave is a mobile application publisher, providing marketing and publishing services to help developers bring their app to market, including Android, iPad, iPhones, and other devices. GeniusWave services help developers target their customers, connect with them and raise awareness through high impact marketing. The result is breakthrough revenues for the developer. GeniusWave is located in Pleasanton California, Shanghai China, and the Philippines. www.geniuswave.com
About Travel Cards
The Travel Cards mobile application puts the power of loyalty and reward programs on your phone, and at your finger tips. Gain quick access to your cards, detailed information and flash them in a high fidelity view. Airlines, hotels, and car rentals can easily recognize your status. You can earn more and take advantage of your rewards. www.geniuswave.com/travelcards
###