VIRUN Patent Granted Mucosal Adhesive Penetrating Technology Delivering Naive Compounds and Peptides Orally
VIRUN, Inc., a biotechnology research and manufacturer of novel encapsulation and delivery technologies has been granted patent number 7,906,140 titled Compositions for Mucosal Delivery of Agents. The patent was issued following the prosecution and due diligence performed by VIRUN and its team of scientists.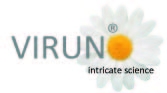 Walnut, CA, March 23, 2011 --(
PR.com
)-- VIRUN is a biotechnology company focusing on safe and natural delivery of compounds and peptides in order to improve efficacy of the agent being delivered. Through its' endeavors, VIRUN has developed technologies to achieve extraordinary oral bioavailability of naïve peptides, for example insulin at greater than 61% compared to i.v. injection. Included in VIRUN's patent and patent pending profile are technologies that naturally aid in the delivery of Omega-3 DHA and EPA/DHA into clear, shelf stable, tasteless and GRAS food-beverage applications branded as OmegaH2O®. OmegaH2O® is currently being sold in food and beverage applications world-wide; including functional waters and juices.
Philip Bromley, Virun's CEO, stated, "Our MAPT patent is the first patent to deliver peptides and compounds bound to Transferrin orally. Not only does MAPT achieve oral bioavailability of agents that would otherwise not be absorbed, MAPT has been shown to deliver peptides with improved efficacy over injection. Our efforts are 100% focused on safety first, followed by effectiveness. This conservative approach may not follow the more common 'fiscal' means; however, our business model has shown low risk to determine high performance."
Craig Wang, COO of VIRUN stated, "We are pleased to have been granted this patent for our MAPT invention. Our patent portfolio is strong and unsurpassed. In fact, our OmegaH2O® patents pending has now received notice from the European Union that all claims are considered inventive and novel."
Nickols Huang, President of VIRUN stated, "This approval is one of many patents that will further strengthen VIRUN as a leader in delivery and encapsulation technologies. In order to protect our rights with the U.S. patent office, we will invest to safeguard our intellectual property in our short and long term advancements."
VIRUN's patented MAPT technology binds naïve compounds and peptides to Transferrin allowing an increase in the agents' effectiveness and oral bioavailability. Transferrin avoids digestion that enables a receptor mediated endocytosis mechanism binding LRP1 and LRP2 on and within cells. Clinical studies have been conducted prior to patent obtainment. Several MAPT drugs and products have either pending or have been approved. Other Virun patents or patents pending include OmegaH2O®, DPtechnology, nanotechnology and proprietary intellectual property under partnership and/or collaboration.
Source: Virun, Inc.
###
Contact
VIRUN
Stephanie Bromley
(909) 839-0629
www.virun.com

Contact