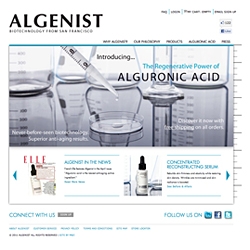 Concord, CA, April 01, 2011 --(
PR.com
)-- To accompany the launch of its Algenist anti-aging skincare line, Solazyme, Inc. also launched the product line's first official website yesterday. The Algenist site, developed by Marissa Berger Interactive, provides information about both the product line and the biotechnology behind it. The site also features an online store by which to order the products.
"We are thrilled to work with the Algenist marketing team at Solazyme and to be part of this historic product launch," says Marissa Berger, project manager and owner of Marissa Berger Interactive. "Solazyme's technology platform is so impressive; this site had to communicate the quality of the products and the science that made them possible."
"We knew that the Algenist site would need a web development company with the drive and experience to create something unique," says Frederic Stoeckel, Senior Vice-President and General Manager of Solazyme Health Sciences. "Marissa and her team brought our vision for the Algenist site to life, creating a user experience that reflects the Algenist brand: expert, luxury, and highly effective."
About the Algenist Brand
Algenist
is a line of advanced anti-aging skincare products formulated with the revolutionary ingredient, alguronic acid. Algenist's biotechnology scientists unexpectedly discovered alguronic acid, a true breakthrough in the anti-aging market, after studying thousands of microalgae strains for renewable energy solutions. Alguronic acid enables microalgae cells to regenerate and protect themselves in harsh environments and conditions. When researched for potential anti-aging benefits, alguronic acid demonstrated significant regenerative and protective properties. To purchase Algenist please click here
www.algenist.com
. To see the latest updates from Algenist, check us out on
Twitter
.
About Marissa Berger Interactive
Marissa Berger Interactive (www.marissaberger.com) is a web design firm serving companies throughout the San Francisco Bay Area, and specializes in popular open-source content management systems such as WordPress and Drupal. MB/I has been developing websites since 2000 and has a diverse portfolio of over 125 websites. More on
Marissa Berger Interactive
.
###