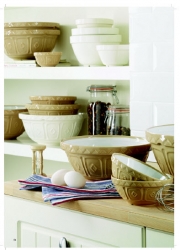 Los Angeles, CA, April 05, 2011 --(
PR.com
)-- Royal Wedding Causes Surge in British Brands to Surge in Popularity Among Americans
Pacific Merchants Trading Company, the exclusive United States distributor of the revered British brands Mason Cash, and Price & Kensington, has experienced a surge in interest in those lines surrounding the impending nuptials of His Royal Highness Prince William to Kate Middleton. Interest in all things "royal" and "British" is expected to reach a fever pitch ahead of the April 29th ceremony date.
Americans Embrace British Traditions - Mason Cash is a Family Heirloom Piece
Mason Cash has been a cherished British brand for over 200 years; their line of handcrafted ceramics debuted in Derbyshire, England in 1800. Since that time, British families have made Mason Cash a household name by embracing the classic "white and cane" mixing bowls and accessories that they manufacture. The design of these stoneware
mixing bowls
have remained unchanged for over 100 years, and still feature the beautiful yet ergonomic pattern on the outside of the bowl that helped to make them famous. "The raised pattern on these bowls is not only decorative, but allows for a firm grip during mixing, as well," says Bruce Mannis, president of Pacific Merchants Trading Company.
Equally as famous as the mixing bowls are Mason Cash's white pudding basins. These pudding basins have been made the same way since the company was established over 200 years ago. The tradition and excellence in design of these products is not lost on the royal family, as the Queen herself uses these basins yearly when giving Christmas puddings to favored employees and subjects. While Americans don't tend to eat puddings in mass quantities as the British do, it seems they have put their own spin on these beautiful and functional bowls. "In our home," Mannis admits, "the pudding basins are the first bowl we grab for cereal and late night ice cream binges."
One of the most interesting aspects of the Mason Cash story is the fact that their pieces tend to serve as family heirlooms. It is not uncommon to see Mason Cash pudding basins, mixing bowls and bakeware passed from one generation to the next. "Families enjoy these hand-crafted pieces year after year, then pass them along to gather more cherished memories," says Mannis. "The beauty, durability and practicality molded into each glazed earthenware piece has earned Mason Cash an honored place on generations of holiday tables and kitchen counters."
Price & Kensington Find a Home in the States - Tea Time is Chic Once More
In addition to the surge in popularity that Mason Cash has seen in the recent months, sales of Price & Kensington tea accessories have also seen a dramatic increase. Not only are Americans taking notice of the English tradition of teatime, but are mirroring their taste in tea accessories. Price & Kensington is a 100 year old brand of English tea items that includes collections of
tea pots
, tea mugs and tea caddies. One of the original "Stoke-on-Trent potters," Price & Kensington not only offers the traditional "Brown Betty" teapot, but also offers a fresh twist on the "Brown Betty" style in a myriad of vibrant colors.
About Pacific Merchants Trading Company: A leader in the gift, gourmet, and hospitality industries since its inception in 1992, Pacific Merchants strives to offer beautifully crafted products at competitive prices. Pacific Merchants is known for supplying independent retailers with unique and interesting products that are rarely available through larger outlets. In addition to the Mason Cash and Price & Kensington brands, Pacific Merchants offers a wide variety of placemats and their Acaciaware® brand, a high-end line of acacia wooden serving pieces. Known throughout the service industry for their excellence in service and pricing, Pacific Merchants is pleased to be a supplier to high-end hotels such as the Four Seasons, Mandalay Bay, Ritz-Carlton, and Wynn Las Vegas. For more information, visit www.pacificmerchants.com
Contact: Bruce Mannis, (818) 988-8999bruce@pacificmerchants.com
###