Pacific Resort Aitutaki Wins Prestigious Asia Pacific Hotel Award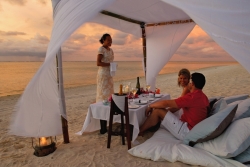 Aitutaki, Cook Islands, April 16, 2011 --(
PR.com
)-- A great wave of anticipation is hovering over a select number of Asia Pacific's leading hospitality professionals. The inaugural Asia Pacific Hotel Awards 2011 in association with Bloomberg Television & Google have now been judged and Pacific Resort Aitutaki has been informed that it is amongst the winning companies.
Successful entrants have been invited to attend a high profile gala presentation dinner at the Longemont Hotel Shanghai on May 31st. Pacific Resort Aitutaki will then discover whether the company has won a five-star or highly commended award in the category of "Best Small Hotel."
In addition to categories for all manner of different sized and specifically targeted hotels, there are also sections for the best hotel architecture, interior design, marketing and website covering the entire range of hotel disciplines.
The event is part of the International Property Awards which have been established for 17 years and its award winners' logo is recognised as a symbol of excellence throughout the global industry. The organisers decided to launch a specific program for the hospitality industry this year due to an increasing number of entries within its commercial categories. Demand for inclusion has been so great that each category was soon full of the required number of entrants. The judges also report that the quality of submissions has been extremely high, giving them a difficult task in selecting the winners.
Attaining one of these coveted awards is indisputable evidence that Pacific Resort Aitutaki is capable of beating some exceedingly strong contenders within the keenly competitive Asia Pacific hospitality arena.
Later this year, the highest scoring winners from the Asia Pacific Hotel Awards will compete against other winning companies from Europe, Africa, the Americas and Arabia to find the ultimate World's Best in each category.
The judging panel is chaired by Anthony Murkett, managing director of The Sloane Club in London and consists of 20 professionals whose collective knowledge of the hospitality industry is second to none. This year's judges include James Bacon, UK account manager of Google; Peter Crome, managing director of Skibo Castle in Scotland; Mike McNamara of the Royal Bank of Scotland (RBS); David Dalby of the Royal Institute of Chartered Surveyors (RICS) and Rebecca Johnson of Bloomberg TV (Hotel Section).
Greg Stanaway, chief executive officer of Pacific Resort Hotel Group, said of the award, "This tremendous achievement is the result of a total team effort, the success of Pacific Resort Aitutaki owes much to all of the people involved in the experience that is a visit to the Cook Islands, it is our team and the people of the Cook Islands who underpin the success of Pacific Resort Aitutaki."
###
Notes to Editors
About Pacific Resort Aitutaki:
Secluded Luxury… Pacific Resort Aitutaki is the Cook Islands and South Pacific leading 5 star boutique luxury resort and member of the Small Luxury Hotels of the World collection. This magical place in the Cook Islands, full of South Seas idyll and romance, is home to Pacific Resort Aitutaki, an enclave of privacy, refinement and luxury, that seduces even the most discerning traveller. Boasting just 27 luxurious 'absolute beachfront' bungalows, suites and villas all with their own personal, panoramic view of Aitutaki's world-famous lagoon, where every sunset majestically captures the colours of the lagoon and the ocean beyond.
And even when your idyllic getaway comes to an end, the seduction doesn't stop. When you return home feeling refreshed and rejuvenated, you'll pause every now and then to revisit your magical memories of the experience that is Aitutaki. Memories of this exclusive, luxurious, romantic sanctuary will hold you in its spell forever. For more information visit
www.pacificresort.com
About Asia Pacific Hotel Awards 2011 in association with Bloomberg Television and Google:
A number of outstanding hotel projects chosen for their green credentials, excellent architectural merit and design will represent the whole of Asia Pacific in a major international competition supported by Bloomberg Television and Google.
These awards have been launched by the organisation that runs the International Property Awards, which was established 17 years ago. Its aim is to seek out the best hotels from each country including those that have been purpose-built for conventions, spa, airports or resorts. Other sections include best sustainable hotel together with best hotel architecture, interior design, marketing and website. Eighteen different countries took part and the competition was fierce with entries across the board being of the highest standard. For further information visit www.propertyawards.net
Contact
Pacific Resort Hotel Group - Cook Islands
Marcus Niszow - General Manager Finance & Strategy (Deputy CEO)
+682 20427
www.pacificresort.com

Contact