ExL Pharma Goes Virtual for Its Digital Pharma Conference - First and Only Virtual Conference for Digital Marketing Professionals in the Pharmaceutical Industry
Key Digital Innovators and Industry Thought Leaders Will Present Via the 6Connex Virtual Experience Platform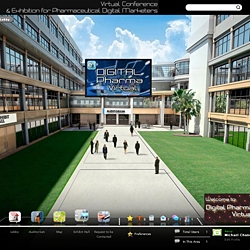 Campbell, CA, April 20, 2011 --(
PR.com
)-- ExL Pharma, an industry leader in producing innovative and educational conferences for the pharmaceutical and allied healthcare industries, has selected the 6Connex Virtual Experience Platform for its Digital Pharma Virtual conference. The event marks the first and only virtual conference for digital marketing professionals in the pharmaceutical industry.
"We started the Digital Pharma event series five years ago, sensing a need for a conference addressing the vast changes in digital marketing across the pharmaceutical industry. Since then, the event had expanded far beyond its East Coast origins to include events on the West Coast and in Europe. Bringing the series to the virtual sphere seemed to be the next logical step for expansion in this groundbreaking series," said Bryon Main, Managing Director at ExL Pharma.
The free-to-attend virtual event will take place on April 26, 2011 via 6Connex'sVirtual Experience Platform in partnership with Blue Sky Broadcast's webinar and web conferencing technologies. Attendees will hear cutting-edge presentations from key digital innovators and industry thought leaders, in addition to having the opportunity to network with colleagues in a virtual exhibit hall. Visitors will have the opportunity to visit virtual vendor booths to see the latest technologies and services available, while gaining access to helpful white papers, presentations and demos.
"We hope that by exposing the Digital Pharma audience to this new platform– and making the event free to attend – we can really cement the Digital Pharma brand in the eyes of digital marketers in the pharmaceutical industry. The content being presented at our events has always been innovative, educational and highly valuable…and now it's accessible to just about anyone. It's a major step forward for our brand," said Jason Youner, Director of the Digital Pharma event series.
While exploring the virtual conference space, attendees will be able to listen in on presentations from a number of the industry's leading decision-makers. Key presentations will cover topics ranging from digital marketing tips for brand managers and social media strategy to best practices for setting up an analytics framework for multi-channel marketing plans. These insightful lectures will be given by senior-level executives from Watson Pharma, Inc., Aurora Health Care, Shire and more.
"6Connex is extremely pleased to partner with ExL Pharma on this initiative. Our technology is designed to present a rich variety of content to a broad audience, when and where they want to consume it, and the Digital Pharma Virtual conference is taking full advantage of this global capability," said Brian Lane, VP Healthcare and Life Sciences at 6Connex.
The partnership marks a major step in ExL Pharma's goal to push the limits of pharmaceutical event production and stand out as an innovator within the pharmaceutical and healthcare event planning industry. The partnership also marks strategic pushes by 6Connex and Blue Sky Broadcast to leverage partnerships in the healthcare and life sciences markets in need of virtual technology marketing and communications solutions.
For more information about the event, visit
http://exlpharma.com/digitalpharmavirtual
For information on exhibiting & sponsorship opportunities, please contact Jayson Mercado at
212-400-6236 or jmercado@exlpharma.com
###
Contact
ExL Pharma
Jayson Mercado
212-400-6236
http://exlpharma.com/digitalpharmavirtual
scott.kellner@6connex.com

Contact