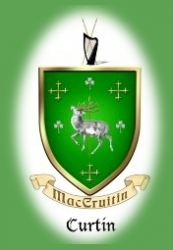 Chicago, IL, April 21, 2011 --(
PR.com
)-- The Curtin Clan Inc. will hold its seventh Clan Gathering in Chicago, June 24th-26th, 2011. Previous Gatherings have been in Massachusetts, New York, Ontario in Canada and every other year in Ireland. The conference will cover Curtin genealogy, Irish heritage, local speakers and attendees can meet Margaret Curtain of Australia, world's foremost authority on the Curtins of Ireland. The Gathering will be held at the Irish American Heritage Center in Chicago, IL. Registration application can be found at
http://curtin.org
– click on 2011 Gathering.
On Friday June 24, highlights at the Irish American Heritage Center will include:
A visit the Museum, officially opened by the President of Ireland, Mary Robinson in 1991,
Mr. Tom Boyle will speak on the Irish Diaspora and the Irish community in Chicago,
Special Presentation. The Vice Consul General for Ireland in Chicago, Mr. Tim Reilly, will present the insignia of the Order of Clans of Ireland to Margaret Curtain on behalf of Clans of Ireland at 2.00pm at the Irish American Heritage Centre at 4626 N. Knox Avenue, Chicago, IL 60630
Tour of Heritage Center with Bob McNamara, President, Irish American Heritage Center
Margaret Curtain on her research on Chicago Curtins
Dan Curtin, Treasurer will explain the Curtin Clan's Incorporation
Various Curtins from the Chicago area will discuss their family roots
Music will start early for Happy Hour for the Curtins and the Public at the Fifth Province Pub in the Center. Pub fare is available there for dinner.
Saturday Highlights
Genealogy Research Techniques with Margaret Curtain
"An Gorta Mór" – a multi-media presentation on the Great Hunger of Ireland which forced so many of our ancestors away from their homeland.
Various clan Presentations including Frank Curtin from Ireland on the Curtins from the town of Meelin, Cork and Dan Curtin, their Treasurer on their DNA studies of Curtin connections.
Happy Hour and socializing with all the local and far away Curtins.
Bi-annual Banquet for all Curtins who have come far and wide with music by the Chancey Brothers. In the spirit of their heroes - The Clancy Brothers and Tommy Makem - The Chancey Brothers sing all your favorite Irish pub songs, ballads, and rebel tunes.
Sunday
Socializing at the Crowne Plaza for breakfast and for those who wish, Mass at the historic Old St. Patrick's. The St. Patrick's began in 1846. The beautiful stained-glass windows were inspired by the Celtic designs of Ireland's Book of Kells. The Church is listed on the National Register of Historic Places.
Attendees can go to the entire program or just the banquet – Registration application can be found at
http://curtin.org
– click on 2011 Gathering. If attendees need a room - special $99 + taxes rate (call 888-233-9527). Saturday, events will be held at the Crowne Plaza O'Hare. For those who are a Curtin or a descendant of one it is highly recommend they join the Curtin Clan and help the organization with its research on the Curtin Clan origins. Curtin males who take the DNA test receive a free one year's membership. For more information contact Dan Curtin, Treasurer, at curtinclan@berk.com.
###