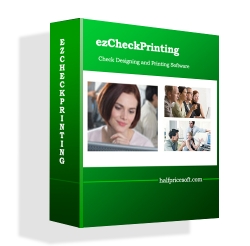 Los Angeles, CA, April 22, 2011 --(
PR.com
)-- The latest version of ezCheckPersonal, the personal-use check-writing software from Halfpricesoft.com, contains several new features that make check writing and tax reporting easier and faster.
New features included with the current version of the software include:
User-defined payment categories — Users can now classify payments using ezCheckPersonal's suggested categories or categories they define and assign themselves. This feature lets customers assign payment categories that make more organizational sense to them or that align with their tax reporting needs. Users spend less time searching for the right category for a payment and less time going through reports for tax-deductible payments at tax time.
Expanded Memo and Note fields — Halfpricesoft.com has doubled the space available for both memos (on the check) and note (not seen on check) fields. Customers can now add more information in each field (total of 40 characters in the memo field and 100 characters in the note field) to help them remember what the payment was for and any special actions that need to be taken regarding the payment.
"Simple, easy, fast. That's what computer software should be," said Halfpricesoft.com founder Dr. Ge. "Tax forms are enough hassle without having to sort through a ton of paper records and trying to remember which expenses are deductible. ezCheckPersonal lets users record a transaction once and find the data quickly and easily anytime they need it — a real benefit when tax time comes."
Additional Features
In addition to the user-defined categories and expanded note fields, ezCheckPersonal includes numerous features that make writing checks and tracking transactions faster, simpler and more affordable:
- So easy to use customers can begin printing checks within minutes of installation
- Intuitive graphical interface leads users step by step through check writing and printing
- Supports unlimited number of bank accounts
- Print custom checks on blank computer checks using standard laser printer
- Print logo image on checks
- Print signature image on checks
- Edit check layout and create customized personal checks
- Easy import and export of data
- Print blank personal checks for writing checks at the store
- Support multiple check formats (3 or 4 checks per page)
- Never run out of checks — more checks are as close as the nearest business supply store or order online at www.halfpricesoft.com and choose Next Day Shipping
Affordable and risk-free for everyone - ezCheckPersonal is Free with TrialPay.
Most importantly, priced at just $24.00, ezCheckPersonal is affordable for everyone. Customers can try ezCheckPersonal free for 30 days to see whether they like the software and make sure it meets their needs. Users simply download the software at
http://www.halfpricesoft.com/check-printing-software.asp
and begin using it. The software customers download is fully functional for 30 days, after which customers must purchase a license key to unlock ezCheckPersonal for unlimited use. License keys can be purchased online for just $24 per installation.
Once customers decide ezCheckPersonal is right for them, customers can get the full-version license for free through a special offer with TrialPay. Customers simply buy products or services from partnering companies and those partners pay for the customer's use of ezCheckPersonal.
Video "Free Personal Laser Check Printing Software" is available at
http://www.youtube.com/watch?v=ACtIu1OxpXI
About halfpricesoft.com
Founded in 2003, Halfpricesoft.com is the developer and distributor of ezCheckPersonal and can be found online at www.halfpricesoft.com. Halfpricesoft.com also has a complete lineup of affordable and easy-to-use tax and financial software titles for small businesses, including ezW2, ezPaycheck, ezCheckPrinting, ezBarcodePrinting and ezTimeSheet.
###