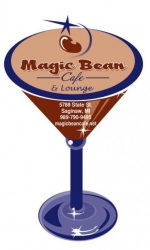 Saginaw, MI, April 24, 2011 --(
PR.com
)-- Lisa Kusey-Rechsteiner has called the Great Lakes Bay Region her home for 42 years. When opening Magic Bean Cafe in 2007 with her husband Gary Rechsteiner they wanted to provide a bistro with handmade espresso drinks, a healthy alternative to fast food, and tasty treats like Gelato ice cream. In 2009 they had the opportunity to acquire a liquor license and did so. They were very careful to bring wine, beer, martinis and hand crafted drinks in at a slower pace. It has never been the intent to become a "bar," but rather a local bistro to unwind and have a glass of wine or pint of beer while surfing the web or visit with a friend while enjoying a martini.
It was in early 2010 that Lisa realized that she needed to find one or two partners to help as the cafe grew. She knew without a doubt that she wanted to bring someone in that has been a part of the Great Lakes Bay Region for all or most of their lives. Lisa states, "We need to keep our youth in the Great Lakes Bay Region or our communities will wither up and die." Stephanie Zeilinger had started with Magic Bean and has grown into a great Team Leader with a lot of spunk. She has helped develop recipes, coordinated many of the events held at the Bean such as wine diners, art exhibits, martini tastings and understands the importance of marketing. Stephanie grew up in Bay City and with family support made the decision to be a part of the Magic Bean Cafe & Lounge with aspirations of expanding current business and possibly locations too.
Brian Pruitt suggested Eugene Seals Jr. to Lisa. Eugene has a background in college and pro basketball and experienced many excellent cafes during his travels in Europe and Central America. Eugene has been an important part of the Saginaw community with all of his charity work to help mentor the youth in Saginaw. Eugene owned a cafe for a short period of time in Saginaw before going off to play basketball again, but when he retired from basketball he has always had the passion to have a cafe again. It seemed to be a perfect fit when Eugene joined the Magic Bean Team in the summer of 2010.
As the menu expands so does their culinary team, introducing Steven Magstadt. Steven brings many new and innovative menu creations to Magic Bean Cafe & Lounge.
"We couldn't be any more proud to have Eugene and Stephanie join our Team as owner/operators. I have been very fortunate with the opportunities given to me in my Automotive and Restaurant career and I am committed to give the same type of opportunities to the younger generation," Lisa Kusey-Rechsteiner says.
For contact or more information:
Lisa Kusey-Rechsteiner
magicbeanteam@me.com
989-397-4202
Stephanie Zeilinger or Eugene Seals Jr.
magicbean@charter.net
989-790-9495
###