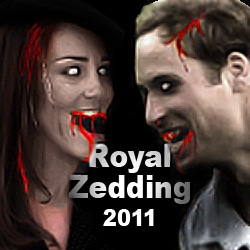 London, United Kingdom, April 27, 2011 --(
PR.com
)-- Binary Space have just released their spin on the Royal Wedding using their game, Class 3 Outbreak to simulate a zombie outbreak during the wedding ceremony. William and Kate are shown standing outside the Abbey, surrounded by onlookers, and appear to be unaware of the oncoming zombie hordes. Undercover agents and body guards are scattered throughout the crowd, however they are greatly outnumbered. Visit the
Royal Zombie Wedding map
now to watch the zombie outbreak unfold.
The Zombie Royal Wedding was created using Binary Space's game, Class 3 Outbreak. Class 3 Outbreak is a zombie survival game that takes place in real world locations on Google Maps(R), with real life friends via Facebook(R). This version of the game was created to promote Binary Space's funding efforts on IndieGoGo, where they are trying to raise $50,000 to develop the game. Jay Weston, Game Designer, says, "Binary Space is an independent games developer, and we would greatly appreciate any support, please visit
IndieGoGo
and contribute to the project if you like it."
More details about Class 3 Outbreak can be found on the Class 3 Outbreak (www.class3outbreak.com) and Binary Space (www.binaryspacegames.com) websites.
Become a fan and follow C3O's progress on Facebook (www.facebook.com/class3outbreak).
###