Business Book from Houston-Based Keynote Speaker Garrison Wynn Makes Amazon Best-Seller List
The Real Truth About Success: What the Top 1% Do Differently, Why They Won't Tell You, and How You Can Do It Anyway! grabs the No. 15 spot on Amazon's list of Kindle best sellers in Organizational Behavior; hardcover remains a best seller among Workplace Behavior titles.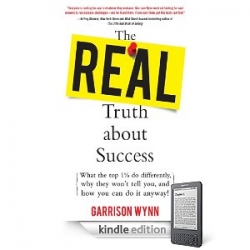 Houston, TX, April 27, 2011 --(
PR.com
)-- The Real Truth About Success, a McGraw-Hill title by business relationship expert and keynote speaker Garrison Wynn, recently reached No. 15 on Amazon's list of Kindle best sellers. In hardcover, The Real Truth About Success steadily ranks among Amazon's best sellers in the workplace behavior category.
The Real Truth About Success: What the Top 1% Do Differently, Why They Won't Tell You, and How You Can Do It Anyway! debunks common myths about success, replacing them with new insight into what makes some of the world's top businesspeople so successful. As a motivational speaker and corporate trainer, author Garrison Wynn has gained unique access to industry leaders and top producers. After 10 years of surveying 5,000 top performers from 23 industries, Wynn compiled research and anecdotes to reveal the truth about success, including some surprising challenges to conventional thinking:
· The best product or service doesn't always win. People choose what makes them comfortable, whether it's the best or not.
· Genius is not the foundation of success. The smartest person in the room has little influence if no one understands him.
· Many standout businesspeople cite hard work as the reason for their tremendous success, but lots of people work just as hard for little payoff. Hard work isn't the whole story.
· Top performers do not often divulge the real basis of their success because the truth might not sound sexy enough.
Published by McGraw-Hill in late 2009,
The Real Truth About Success's
current climb shows the book has growing appeal in a challenging economy. "Readers seem intrigued to learn that the most successful people earned their place not by being the smartest, the hardest working, or the best at what they do but by knowing what advantages they have and using them fully," Wynn says. "This book reveals that there's not some elusive, rare quality that brings success; it's something that any person can replicate if he or she is willing to find an advantage and use it to create an unfair fight – not a dirty fight, but a fight where the odds are stacked in one's favor."
Readers often approach Wynn at his speaking engagements or training sessions to comment on the unconventional ideas advanced in the book. "They usually mention how true (and occasionally disturbing) they found the conclusions from my research to be: Being smart or having great ideas is just not enough to succeed," says Wynn. "But most often, people remark that the ideas in the book made them look at themselves in new ways and showed them how life not being fair can actually become an advantage."
Although both book formats sell well,
The Real Truth About Success in Kindle format
has established a solid hold in the Top 20. Social media expert Brian Carter attributes this success on Kindle to the fact that the book's content and humor reflect the way that tech-savvy, socially networked professionals like to receive information. "Garrison Wynn's Real Truth is laugh-out-loud funny all the way through. It serves up valuable information laced with irreverent humor, keeping the pace fast and the points memorable. Content like this on Kindle appeals to the growing social media set because it feeds them an insider's look at success in the portable, on-the-go format they prefer. It fits the lifestyle and feeds the desire to do more and achieve more with what they've got," Carter says.
From the research compiled for The Real Truth About Success, Wynn has developed keynote speeches and professional training designed to help individuals and organizations identify their strengths and put their advantages to full use. Keynotes and training are delivered through Wynn Solutions, a Houston-based firm founded by Wynn in 1996 to help individuals and organizations boost their influence and improve their leadership, management and communication skills.
About
Garrison Wynn
As a motivational speaker, advisor, author and entertainer, Garrison Wynn has worked with some of the world's most effective corporate leaders, educators and business developers, from multibillion-dollar manufacturers and national associations to top New York Stock Exchange wire houses. He has a background in manufacturing, entertainment, telecommunications and financial services. By age 27 he became the youngest department head in a Fortune 500 company's history. He researched and designed processes for 38 company locations nationwide and developed and marketed products still being sold in 30 countries. An experienced actor in films and a former professional stand-up comedian, Garrison has hosted national television and radio programs. He is the author of the book The REAL Truth About Success, contributes weekly columns to The Washington Post and has coauthored with Stephen Covey. His books, articles and award-winning success tools have received accolades, but his greatest strength is a magnetic live performance that keeps him in high demand, with more than 600 inquiries and 100 speaking dates per year.
About
Wynn Solutions
Wynn Solutions helps individuals and organizations make the jump from being really good at what they do to being consistently chosen to do it. Through customized services, including keynote speakers, corporate training programs and employee assessments, Wynn Solutions provides its clients with the tools they need to create and sustain successful business relationships. Founder Garrison Wynn and his staff of experienced motivational speakers offer keynote presentations, training, coaching and consulting in sales, marketing, leadership, management, communications and presentation skills. Wynn's experience as a professional stand-up comedian and Fortune 500 dynamo ensures that every Wynn Solutions program and training session is impactful, entertaining, grounded in research and backed by action that generates results.
Contact
Wynn Solutions
Garrison Wynn
713.864.2902
www.wynnsolutions.com

Contact