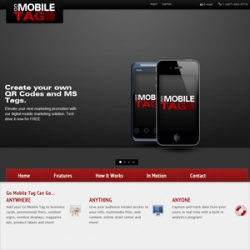 Orlando, FL, May 02, 2011 --(
PR.com
)-- Right Brain Media is proud to announce the launch of GoMobileTag.com, a digital mobile marketing solution created by Right Brain Media that lets users create and manage their own interactive QR Code and Microsoft Tag campaigns in minutes. With rich multimedia features and sophisticated administrative functionality and analytics, Go Mobile Tag is a state of the art application that can elevate any promotion or marketing campaign.
Simply put, a QR code is a two-dimensional code that is readable by barcode scanners and/or smart phones. It is an abbreviation for quick response because it stimulates the user to interact to the content and collects the data in real time. A Microsoft tag is also a two-dimensional code that allows users to view content on their camera phones and is compatible with all Microsoft products. Both transform traditional print materials into mobile media. Go Mobile Tag allows users to build and edit codes in both formats.
"Go Mobile Tag will revolutionize the world of mobile marketing in the United States," Deke Hooper, CIO of Right Brain Media. "Businesses have been using QR codes for over a decade in other countries and this is the first system of its kind in the US that allows people to manage their codes in a fully functional content management system."
Go Mobile Tag Features:
· Rich digital mobile marketing solution
· Fully integrated admin management interface
· Built-in analytics to track your success
· Data capture from your users in real time
· Build and edit your own QR Codes and Microsoft Tags
· Let users instantly access your info with a barcode scanner or smart phone
· Showcase video, audio, text or website
· Post coupons, discounts or special promotions
· Send directions and contact info directly to user's phone
· Prompt the user to call or email you instantly
Want to try it? Check out their free trial at: www.GoMobileTag.com
About Right Brain Media
Right Brain Media, Inc (RBM.TV), founded in 2002, is a pioneer in digital media and web technology products, services and solutions to businesses, ministries and non-profit organizations. Specializing in digital media centers, websites, internet TV channels, live streaming products, mobile apps and more, RBM.TV uses cutting edge technology to create custom solutions for clients to propel their businesses forward.
PR Contact:
Erika Rossi-Raia,Director of Communications
Right Brain Media
121 S. Orange Ave., N820-B
Orlando, FL 32801
407-909-9718 ext 104
Dwight Hooper,CEO
Right Brain Media
121 S. Orange Ave., N820-B
Orlando, FL 32801
407-909-9718
###